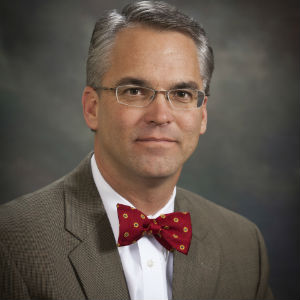 Bridgewater College will inaugurate Dr. David W. Bushman as the college's ninth president on April 11 at 10:30 a.m., on the campus mall. The inauguration of Dr. Bushman, who took office June 1, 2013, will celebrate ideals for which the College stands as reflected in the four Latin words appearing on the Bridgewater College seal: Bonitas, Veritas, Pulchritudo and Concordia, which mean Goodness, Truth, Beauty and Harmony.
"Higher education today, maybe more so than ever before, is fluid and challenging," said Nathan Miller, chairman of the Bridgewater College board of trustees. "Bridgewater College is fortunate to have Dr. Bushman as its president.  He has superb academic credentials, solid management experience and a vision for the college. These attributes make Dr. Bushman and the college a good fit, which ensures a bright future for our institution in an ever-changing environment."
Free and open-to-the-public activities that will complement the inauguration ceremony – which itself will form part of the college's Alumni Weekend celebration – include:
·     April 7, 7:30 p.m., Carter Center for Worship and Music. "Scientific Inquiry to Seek and Protect Truth: From Ancient to Modern Times," by Dr. Krishna Kodukula, SRI Shenandoah Valley director of strategic development and Bridgewater College trustee. Dr. Kodukula's speech celebrates the ideal of "Truth" from the Bridgewater College seal.
·     April 8, 7:30 p.m. Carter Center for Worship and Music. "Presidential Inauguration Campus Worship Service," by the Rev. Jeff Carr, Bridgewater Church of the Brethren senior pastor, and Dr. Robbie Miller, Bridgewater College chaplain. The service celebrates "Goodness" from the college seal.
·     April 9, 7:30 p.m., Carter Center for Worship and Music. "Harmonic Beauty Concert," featuring the Bridgewater College Jazz Ensemble and Chorale, as well as a variety of small instrumental and vocal groups. The concert celebrates "Beauty" from the college seal.
·     Ongoing throughout the spring semester is a community service project to benefit Well of Hope International. The project celebrates "Harmony" from the college seal.
To learn more about all events, go to http://www.bridgewater.edu/aboutus/administration/president/inauguration.
Dr. Bushman came to Bridgewater from Mount St. Mary's University in Emmitsburg, Md., where he was the founding dean of the university's School of Natural Science and Mathematics. In this role, he oversaw numerous academic programs and new academic program development, as well as strategic and communications planning and fundraising for the school.
Prior to leading Mount St. Mary's School of Natural Science and Mathematics, Dr. Bushman served as president of Lees-McRae College in Banner Elk, N.C. While at Lees-McRae, he oversaw the college's successful bid for re-accreditation from the Southern Association of Colleges and Schools (SACS) and developed and implemented a new strategic plan for the institution.
Under Dr. Bushman's leadership, Lees-McRae engaged in a number of significant campus renovations, implemented curricular and co-curricular enhancements and significantly increased its freshman retention rate.
Before joining Lees-McRae in 2004, Dr. Bushman served in a variety of roles at Mount St. Mary's, including dean of academic services, director of assessment, chair of the department of science and associate professor of biology.
Dr. Bushman earned his bachelor of science in biology summa cum laude from Loyola College in Maryland. He graduated from the University of Maryland with both his master of science and doctorate in entomology. Upon completion of his doctorate, Dr. Bushman worked for several years in private industry as a research biologist and research fellow. He has been published in the field of entomology as well as undergraduate science education.
Dr. Bushman has served as an executive committee member for North Carolina Independent Colleges and Universities and was a board member for The Edgar Tufts Memorial Association. He has also served as a campus site visit member for SACS re-accreditation.
Dr. Bushman and his wife, Suzanne DeLaney Bushman, have two children, Emily and Will. Suzanne was raised in Virginia and has spent her career in healthcare as a pediatric intensive care nurse for 17 years and, most recently, in an outpatient surgery unit.
Bridgewater College is a private, four-year liberal arts college located in the Central Shenandoah Valley of Virginia. Founded in 1880, it was the state's first private, coeducational college. Today, Bridgewater College is home to approximately 1,800 undergraduate students.