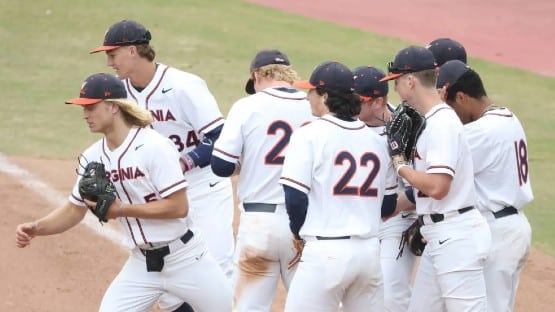 As Brian O'Connor enters his 20th season as head coach of the Virginia baseball program, he possesses an ideal mixture of returning experience and talented newcomers, with some key additions from the transfer portal as well.
O'Connor will have 16 guys back from last season and 20 new faces — including 12 recruits and eight transfers — at his disposal when the season gets underway.
All of that should bode well in 2023 for the 19th-ranked Cavaliers, who are coming off of a 39-19 campaign (17-13 in conference play) which included a second-consecutive trip to the postseason.
There's a lot to replace, as four Cavaliers were selected in the MLB Draft at season's end — LHP Nate Savino, LHP Brandon Neeck, OF Chris Newell and RHP Matt Wyatt — while Devin Ortiz, Will Geerdes and Brian Gursky each signed free-agent deals. Alex Tappen, who started all 58 games last season, has also moved on. He led the team in hits with 83 and was second in several other categories — batting average (.366), doubles (15), home runs (13) and runs batted in (139).
On the mound, Savino and Gursky combined for half of the team's starts (29 of 58), as well as a third of the Wahoos' victories (13 of 39) and a total of 148.1 innings. Ortiz, Geerdes, Neeck and Wyatt, meanwhile, accounted for 15 additional starts and nine more wins. Innings-wise, that entire group pitched 53 percent of the 511.2 last season.
That leaves a lot up to Jake Berry, a 6-foot-10, left-handed junior, who has the most starting experience among the Cavaliers' returners, with nine starts last year (eight of them in conference play) and the third-most innings pitched (56.1). O'Connor sees big things this season for Berry, who he said had a great summer playing in the Cape Cod League.
"He got some really great experience for us last year, but certainly needs to take that step forward in whatever role that's going to be," said the coach, "and that's typically the process that they go through."
Sophomore Matthew Buchanan had the next-most starts off of last year's roster with four, so he could be in line for some opportunities to take the hill throughout the season as well.
O'Connor has several other viable options available, as he completely revamped his staff through the transfer portal in the offseason, bringing in a handful of pitchers who will all have a chance to contribute immediately.
"I'm really excited about our transfer class," O'Connor said in the fall. "First and foremost, I believe our program is always going to be built with the development of the high-school player, but the supplementation of our transfer group is really exciting.
"We've got some guys on the mound, some pitchers that have had a lot of experience at their previous institution that are going to come in here and just — they've been there before. They've pitched in NCAA regionals, they know what it's like, they just haven't worn our uniform doing it."
Junior southpaw Connelly Early (Army) was the Patriot League's Pitcher of the Year after registering a 7-4 record in 14 starts. A native of Midlothian, Early earned the Black Knights' Friday-starter role and produced a 3.26 ERA and 88 strikeouts in 85.2 innings.
Nick Parker is a right-handed grad transfer from Coastal Carolina who started 15 games last season for the Chanticleers, striking out 81 batters with a 4.45 ERA in his 85 innings of work.
Brian Edgington is a grad transfer from Elon who started 15 games for the Phoenix a year ago, striking out 86 batters in 86 innings with a 6-4 record and a 3.56 ERA.
Another grad transfer, left-hander Angelo Tonas, made 30 relief appearances as a senior in 2022 at Georgetown, tying the Hoyas' single-season mark. Tonas fanned 46 batters in 39.2 innings out of the bullpen, and could certainly be useful in late-game situations.
VCU sophomore transfer Chase Hungate could see significant time out of the pen as well, as he tossed 63.0 innings of relief in 21 appearances last season for the Atlantic 10-champion Rams. Hungate, who boasted a 3.57 ERA — tied for fifth-lowest in the conference — and a record of 6-4, could also be called upon for setup and/or closer duties throughout the season.
Sophomore Jay Woolfolk, who could very well be the Cavaliers' starting quarterback on the football field in the fall, threw 37.2 innings across a team-high 28 appearances last season. Woolfolk was 3-0 with a 2.87 ERA as a freshman.
Turning to the positional players, junior catcher Kyle Teel spent time with the USA Baseball team in the summer and again should provide plenty of pop with his bat. Teel's numbers dipped a bit after leading the team in batting as a freshman (.335 in 2021; .276 last season). O'Connor expects Teel to remain the predominant starter behind the plate, but has a little more depth at the position this season, should he occasionally choose to use him elsewhere.
Junior third baseman Jake Gelof had an All-American season in 2022, blasting 21 home runs and driving in 81 RBI, which was a single-season program record. Gelof had five games in which he hit multiple homers, as he finished in the top five in the ACC in slugging percentage (.764; second), batting average (.377; fourth) and on-base percentage (.477; fifth).
A trio of sophomores — who each made significant contributions last year as freshmen — are expected to round out the starting infield positions.
Griff O'Ferrall (ACC All-Freshman team, Freshman All-American first-team selection by the National Collegiate Baseball Writers of America) will be back at shortstop after starting all 58 games as a freshman. O'Ferrall tied with Tappen for the team high in at-bats with 227, and led the Hoos with 17 stolen bases in 19 attempts. He also had a team-best 104 defensive assists and a fielding percentage of .945.
Ethan Anderson started 13 games at first base (41 overall), and will likely get the nod there with the departure of Ortiz. Both O'Ferrall (.308 batting average) and Anderson (.302) drove in 39 runs a year ago.
Justin Rubin started 21 games at second base last season, and Max Cotier transferred to West Virginia, leaving Rubin as a prime candidate to take over the position. Rubin only appeared in 36 games, but turned in 29 hits (7 of them went for doubles) and a .333 average in 87 at-bats.
Two more sophomores are starting candidates in the outfield, as Casey Saucke started 46 games in right field and Colin Tuft started 17 games in left. Northwestern junior transfer Ethan O'Donnell, who was an All-Big Ten second-team choice after belting 16 homers last season, is likely to immediately slide into a starting spot.
A few other incoming graduate transfers should see plenty of action in the outfield as well. Travis Reifsnider (James Madison) led the CAA in home runs (13) and slugging percentage (.632). He also spent time at catcher and designated hitter.
Penn grad transfer Tommy Courtney started every game he played in (108 of them) across his four-year career — two of those seasons were shortened to a total of 22 games due to the pandemic. Courtney served as the Quakers' everyday center fielder and leadoff hitter.
Chris Baker is another grad transfer out of Washington College who could provide some depth in the Cavalier outfield.
As for the first-years, Florida product Bradley Hodges was rated the 10th-best left-handed pitcher in the country, according to Perfect Game, which also has Arlington native Jack O'Connor (no relation to the skipper) listed as the top right-handed pitching prospect in the state and 15th-best overall.
Outfielder Harrison Didawick and infielders Henry Godbout and Luke Hanson are a few other freshmen who have already shown that they can make contributions in the fall and could challenge for some quality playing time.
The Cavaliers will begin the season against Navy at 1 p.m. on Friday, Feb. 17, the first of three games that weekend in Wilmington, N.C. The Wahoos will face host UNC Wilmington on Saturday the 18th at 3 p.m., then will wrap up the trip on Sunday morning at 11 against Ohio. Virginia's home opener against Longwood comes two days later on Tuesday, Feb. 21.
UVA will play 36 home games, including a season-long, 11-game stretch from April 25 through May 14. The Cavaliers, who were 29-5 at Disharoon Park last season, will face nine opponents who qualified for the NCAA Tournament last season — Columbia, Florida State, Georgia Tech, Liberty, Louisville, Miami, North Carolina, VCU and Virginia Tech.