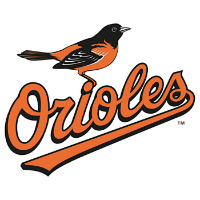 Baltimore waxed defending world champion Kansas City, 9-1, but the story of the night was a brawl ignited by headhunting Royals pitcher Yordano Ventura.
Ventura (4-4, 5.32 ERA) threw at Orioles star Manny Machado in a second-inning at-bat, then plunked him with a 99-mph fastball in the fifth. Machado responded by charging the mound and landing at least one clean shot on Ventura as the benches cleared.
Both players were ejected, and suspensions for both loom.
Mark Trumbo (20) and Chris Davis (12) hit back-to-back homers following the melee, breaking the game open.
Ryan Flaherty (1) and Adam Jones (9) also homered for Baltimore.
Trumbo was 2-for-4 with the homer and four RBI, giving him 48 RBI on the season.
Ubaldo Jimenez (3-6, 6.21 ERA) got the win for the O's (34-23), giving up a run on nine hits in five innings of work, striking out four and walking three.