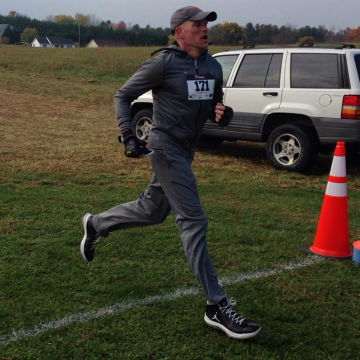 I started running six months ago. By the way I talk about running, you'd think I was Frank Shorter.
"I ran an eight-thirty pace for 10 miles, but miles eleven through thirteen were about nine-fifteen each, so I have some work to do."
Yes, I'm boring myself writing that.
But the thing is, I'm hooked. Seven months ago, the last thing I would've imagined was me wanting to have anything to do with running more than up and down a basketball court.
Running was a necessary evil, and only done when chasing down another chance to shoot a contested three.
I was sure that I'd tear my knee, run my ankles into the ground, kill my feet, throw my whole structure off.
Not to mention that running looked really hard. I mean, the people that I'd see running down the street looked to be in some quite intense pain, agony.
So one day at the gym, bored, I decided to try to run a couple of laps on the walking track. The equivalent maybe of 350 yards.
Could barely do it, but I saw it as a challenge. A couple of weeks later, I did a mile, then one Sunday, I made it to three.
Fast forward to October, and I was in my first official 5K, and I finished eighth out of 101 runners overall, and won my age division.
To be accurate, I was announced as the winner of the 30-39 age division, which for a guy at 42 was … nice.
(They made me give the medal back. The poor young guy who actually won wanted it. I really didn't want to part with it.)
A couple of weeks ago, I ran my first ten-miler. Ten miles. I couldn't run two laps six months ago.
This past weekend, I ran seven and a half miles each on Friday and Saturday, and ten miles on Sunday.
Naturally, I have to eat like a horse just to maintain weight. That's right, to maintain weight. In January, I started on a weight-loss regime weighing in at 270.4 pounds. Today I'm 177, and that's only after eating an extra meal or two every day.
I log 40 miles a week on the road and at the track at the gym.
And I read as much as I can about running, and talk about it, yeah, probably too much.
My knees: fine. (And I had knee surgery in high school from a sports injury. Torn ACL and MCL, six months of rehab. And feel great today after a long run, better than I did 10 months ago weighing 270 and not running, easy.)
Ankles fine, feet great, blood pressure awesome (92/60 last time I had it checked).
I'd tell anybody who asked to do what I did. Run a couple of laps around the track. It will be hard at first, but you'll find soon that we're born to run, that it's good for you, and that your time out running is the best thing there is for meditation ever invented.
My wife, who is now running with me, used to ask me what I thought about while running, assuming I used the time to scheme up my next big business venture or think through a new book project.
My answer: nothing.
Just the next step.
And then the next.
Not a bad way to live life, actually.