Trevor Bayne is riding some momentum.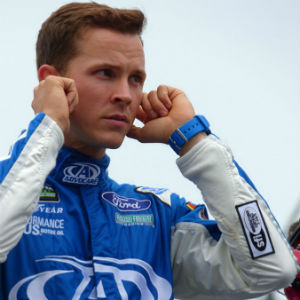 He hopes that momentum from Michigan and his top-five run last week will be the little push he needs to get a win back home in the hills of Tennessee.
After all, despite living ninety minutes or so away in Knoxville, Bristol Motor Speedway is Trevor Bayne's home track.
"Bristol is such a special place for me," replied Bayne prior to Monster Energy Cup Series qualifying.  "A win here would mean the world to me with it being my home track."
Bayne's doesn't make that claim just by driving the high banks of Bristol in the Xfinity and Cup series, he came to Bristol on a regular basis as a kid.
"I remember coming here as a kid," commented Bayne. "It would be incredible to add my name to the list of winners here, especially the Night Race. In addition, it would get us to the playoffs which would be huge for this entire Roush-Fenway team and as a whole to have two cars in the playoffs."
Tradition favors Bayne as he has an average of 10th in the last four Monster Energy Cup Series races at Bristol Motor Speedway.  He has recorded four top-10's in 12 previous starts in the NASCAR Xfinity Series with a best finish of sixth in 2013.
"This weekend at Bristol is a great chance for us to be in position to get the win we need to get into the playoffs," replied Bayne. "We have run solidly here recently finishing in the top five here last year, and this whole team has a ton of confidence right now after our run last week in Michigan."
Bayne knows now is the time to make the move, just like on restarts, because there's only three races left before the playoffs and Bristol Motor Speedway will leave you at the head of the table or at the end of the line wondering what could have been.
The 2011 Daytona 500 winner knows that win would be big for him on a number of fronts. Bayne would celebrate with a short vacation on the race week off but it would also get him ready for another big event; the solar eclipse.
"I plan on driving around Knoxville to look at the eclipse with welding glasses on," he says with a laugh.
If Bayne wins Bristol and the Bass Pro Shops Night Race, he can do just about anything he wants.
By Rod Mullins/Augusta Free Press