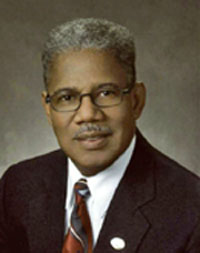 Richmond Democratic State Sen. Henry Marsh has joined the parade of Democrats leaving the Virginia General Assembly.
Marsh, 80, has served Richmond in the General Assembly since 1992. He was Mayor of Richmond in the late 1970s. According to reports, Marsh has told political supporters that he hopes his daughter can succeed him in the seat representing the Richmond area.
In the meantime, well wishes poured in from across the Commonwealth.
"From his high school days to his years in the General Assembly, Senator Marsh has always been a pioneer in the field of civil rights," Gov. Terry McAuliffe said in a statement. "As we commemorate the 50th anniversary of the Civil Rights Act, there is no doubt of the hand that Senator Marsh played in making that dream a reality. He solidified his place in history as Richmond's first African American mayor, and he has been a devoted public servant for over 50 years. He has guided Virginia through its transformation from segregation to celebration of diversity, and without his contributions our Commonwealth would not be what it is today.
"The leadership that Senator Marsh has demonstrated can only continue to live in the legacy that has been built through his work for civil rights. I am grateful to Senator Marsh for his unbridled commitment to making Virginia stronger through his relentless passion for equality," McAuliffe said
Said Sen. Mamie Locke (D – Hampton), "Henry Marsh has spent a lifetime in public service. He served the people of Virginia as a city councilman, a mayor, and — for twenty-two years — as a member of the Virginia state Senate. Sen. Marsh is also a genuine civil rights hero, having fought for equal justice for all Virginians before the law in dozens of court cases. His many sacrifices and accomplishments cleared a path for all those who followed in his footsteps, and for the many more who will follow in the future. I am grateful to Sen. Marsh for his many years of service, and I wish him all the best."
Said Caucus Chair Sen. Donald McEachin (D – Henrico), "I would like to thank Sen. Marsh for his long years of service to both the Capital region and to the Commonwealth. As the first African-American mayor of Richmond and as a state senator, Henry Marsh has been and is a role model and inspiration to many. I know I am here because Senator Marsh and others paved the way. I and many others stand on his shoulders and we all owe him a huge debt of thanks and gratitude."
Said Democratic Leader Sen. Dick Saslaw (D – Fairfax), "Sen. Marsh has served the people of Virginia all his life — as a pioneering civil rights attorney, as a city councilman, as mayor of Richmond, and most recently as a Virginia senator. Here in the Senate, he has been a tireless champion for the voters who elected him — and for all Virginians. We will miss him, but I know my colleagues join me in wishing him well."