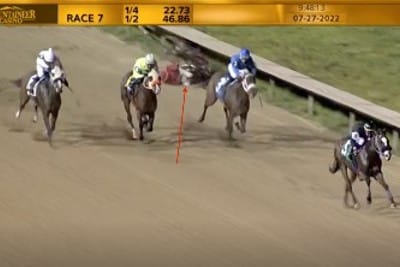 On July 27, "Little Christy" ran her last race at the Mountaineer Casino, Racetrack and Resort in New Cumberland, W.Va.
'Little Christy" "brokedown," and was euthanized on the track.
Her death is not the first for a racehorse in the Mountain State, which has gained a reputation for one of the worst states for racehorses. The Associated Press reported in 2021 about the death of three Thoroughbred racehorses at Charles Town Races. The three horses were euthanized within a span of 10 days after various injuries while racing.
"Little Christy's" death comes as the states of West Virginia and Louisiana take legal action to halt implementation of the Horseracing Integrity and Safety Act, which took effect July 1, 2022. The legislation bans the use of drugs in racehorses on race days and creates a national standard for drug testing and enforcement in racing.
"West Virginia is becoming widely known as a safe haven for animal abusers and cheaters in American horse racing, and the death of Little Christy at Mountaineer Racetrack Wednesday underscores why the state should comply with the new federal Horseracing Integrity and Safety Act that took effect July 1," Marty Irby, Executive Director of Animal Wellness Action said in a statement.
Animal Wellness Action launched a new watchdog website, www.HISAWatchDog.org.
"As the rampant animal abuse in the Mountain State continues while state officials flout the federal law, we plan to highlight with the media every horse death, doping scandal, injury or mishap in the state moving forward. Rogue operators and officials who have snubbed the federal law have given the state two black eyes and a broken nose," Irby said.