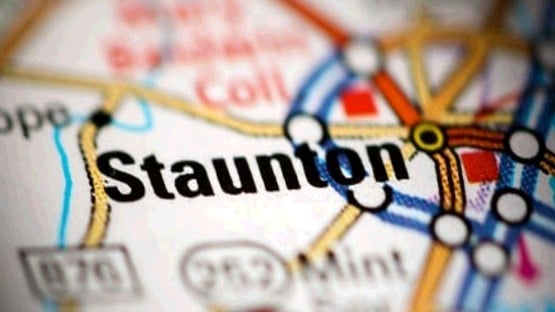 Staunton City Council approved allowing Staunton Planning Commission to create an amendment to the city's comprehensive plan to include the Uniontown Neighborhood Action Plan.
"Let's get this thing off and rolling," Staunton Mayor Stephen Claffey said at council's regular meeting last night.
The approval came after a presentation by EPR's Will Cockrell and five months of meetings to develop an action plan. "It has actually been a pleasure," Cockrell said of the meetings which resulted in a final draft plan for action.
Cockrell provided a history lesson about Uniontown on Route 250 after the American Civil War "when the African-American community really gravitated to the Union Cemetery," he said, and became "a truly sustainable community" in Staunton.
The city of Staunton annexed Uniontown in 1948 and again in 1986. However, in the 1960s, industrial zoning restricted new home development in the neighborhood.
In meetings, which began in March, Cockrell said community members considered the general site conditions of Uniontown, including the presence of the Buckingham Branch Railroad and several cemeteries.
Land use was considered within the context of Uniontown being a neighborhood that is the midpoint between Interstate 81 and downtown Staunton. How could Staunton reset the tone and make Uniontown more visible?
"Uniontown is hidden away behind that strip," Cockrell said.
Existing land use and future land use were considered, as well as zoning and proposed zoning. One hundred years ago, 60 single-family homes were in Uniontown.
Cockrell pointed out that the action plan includes existing structures and development potential in the area north of the railroad and in the southern area of Uniontown.
Existing infrastructure includes the challenge of connecting Uniontown to city water and sewer, as well as transportation challenges.
The meetings also considered Strengths, Weaknesses, Opportunities and Threat (SWOT) Analysis for the neighborhood.
A vision statement was written with the goal to create "a thriving and resilient Uniontown that embodies its historic sense of community," but also looks to the future.
The action plan provides 18 recommendations for action, including water & sewer improvements, road improvements & streetlights, developing an education program for property owners, partnering with housing groups to build new homes, preserving natural habitats, and documenting Uniontown's history with an online presence.
Cockrell said that he considers the action plan for Uniontown a special project for EPR.
Estimates for funding to make actions such as water & sewer and road improvements a reality are in millions of dollars.