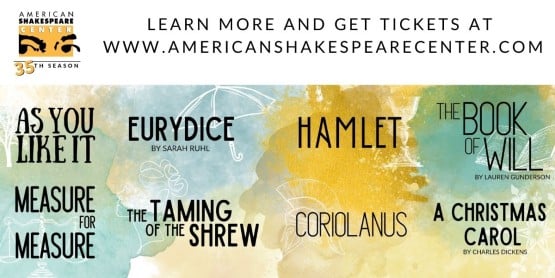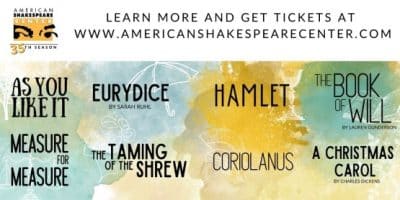 American Shakespeare Center in Staunton's Blackfriars Playhouse was founded 35 years ago as the Shenandoah Shakespeare Express.
Renamed in 2005, the Blackfriars Playhouse is the only re-creation in the world of Shakespeare's indoor theatre, and shares the playwright's classics, as well as new plays, with the world.
In 2023, the center also joins the worldwide Folio400 Celebration in honor of the 400th anniversary of the first printing of Shakespeare's work. The center will present five plays published in the First Folio in 2023, including four never before published: "As You Like It," "Hamlet," "Measure for Measure," "The Taming of the Shrew" and "Coriolanus."
The center will also stage Sarah Ruhl's comedy "Eurydice," Lauren Gunderson's recounting of the creation of the First Folio, "The Book of Will," and the holiday favorite, Charles Dicken's "A Christmas Carol."
On sale now for performances from Feb. 17, 2023 to May 14, 2023 are tickets for "As You Like It," and Ruhl's "Eurydice," which will be performed Feb. 24, 2023 to May 13, 2023.
Often called England's "Bard of Avon" or "the Bard," William Shakespeare was born approximately in 1564. A playwright, poet and actors, he would become known as the world's greatest dramatist. He wrote 39 plays and 154 sonnets. He died in 1616 at age 52.
In "As You Like It," a web of love lives set in the Forest of Arden, disguised lovers on the run meet cute and four happy endings result in weddings.
Ruhl's "Eurydice" reimagines the myth of Orpheus and Eurydice through her eyes, not his, as she dies young on her wedding days then journeys to the underworld.
ASC veteran actors Topher Embrey, Summer England, Michael Manocchio, Annabelle Rollison, and Constance Swain return this spring and share the stage with Kayla Carter and Kenzie Ross, both of whom will make their ASC debuts.
The First Folio was published seven years after Shakespeare's death by his friends and colleagues, and contained 36 plays, 18 of which had never been published before and might have otherwise been lost to theatre and literature history, including "As You Like It."