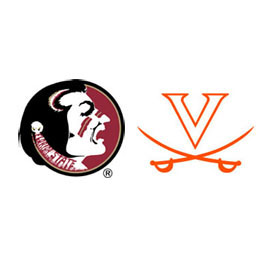 The UVA baseball team concluded the 2014 ACC Baseball Championship with a 6-4 loss to Florida State Saturday evening at NewBridge Bank Park in Greensboro, North Carolina. Seeded third in the field, Virginia (44-13) squandered a 4-1 lead in the seventh inning as the second-seeded Seminoles (43-15) scored four times in the inning to rally for the win.
Brandon Downes (Jr., South Plainfield, N.J.) went 2-for-4 with a double and a two-run home run for the Cavaliers, while Daniel Pinero (Fr., Toronto, Ontario) and Joe McCarthy (So., Scranton, Pa.) each added a pair of hits.
Virginia reliever Josh Sborz (So., McLean, Va.) took the loss after allowing a pair of runs in the seventh inning. He fell to 4-4 on the year. UVa starting pitcher Nathan Kirby (So., Midlothian, Va.) gave the Cavaliers six solid innings, allowing one unearned run, four hits and two walks while striking out two.
Gage Smith (5-2) earned the win for Florida State with 1 1/3 innings of scoreless relief. Jameis Winston earned his seventh save after getting the final five outs. FSU starter Luke Weaver worked six innings, giving up four earned runs, six hits and four walks while striking out six.
Florida State took a 1-0 lead in the second inning. John Nogowski hit a leadoff single and advanced to second on a UVa fielding error on a Jose Brizuela grounder. Ben DeLuzio grounded into a fielder's choice to move Nogowski to third, and John Sansone followed with an RBI single to right.
Virginia scored three times in the third inning. Matt Thaiss (Fr., Jackson, N.J.) drew a leadoff walk and scored on a two-run home run by Downes to left field, his seventh homer of the season. With two outs Pinero lined a single to right. After Mike Papi (Jr., Tunkhannock, Pa.) walked, McCarthy singled to left to plate Pinero.
FSU took advantage of three Virginia walks to score four times in the seventh inning and take a 5-4 lead. With one out, UVa reliever Connor Jones (Fr., Chesapeake, Va.) walked Justin Gonzalez and Danny De Le Calle. Sborz took the mound and uncorked a wild pitch before Josh Delph grounded out to bring in a run. Sborz walked pinch hitter Casey Smit on four pitches before the next three Seminoles, DJ Stewart, Nogowski and Brizuela hit consecutive RBI singles.
UVa threatened in the eighth, getting one-out singles from McCarthy and Derek Fisher (Jr., Rexmont, Pa.) to put runners on second and third with one out. FSU brought on Winston, and John La Prise (So., Exton, Pa.) lined his first pitch toward left field but Gonzalez laid out to make a full-extension, diving catch and then threw to second to double up Fisher and end the inning.
The Seminoles added an insurance run in the eighth against UVa closer Nick Howard (Jr., Olney, Md.). Sansone led off with a single and after Gonzalez walked, De Le Calle bunted the runners over. Delph was intentionally walked to load the bases, and Smit followed with a sac fly to center.
Virginia now will await its postseason destination. The 16 host institutions for the NCAA regionals will be announced at approximately 9 p.m. Sunday, while the field of 64 will be unveiled at noon Monday on ESPNU. The Virginia Athletics Ticket Office in Bryant Hall will be open from 9 a.m. to 1 p.m. Monday to accept ticket orders for a potential regional at UVa's Davenport Field.