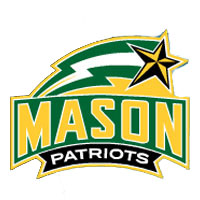 No. 18 Oklahoma snapped George Mason's two-game winning streak on New Year's Eve, defeating the Patriots 61-43 in the Lloyd Noble Center to remain perfect on its home court. Mason dropped to 5-7 with the loss, while Oklahoma improved to 9-3.
Mason struggled from the field, shooting just 29.5 percent (18-61) including a 0-for-14 effort from three-point range. Oklahoma's 48.5 percent shooting efficiency in the first half helped the Sooners to a 37-23 halftime advantage, but the home squad also experienced stifled shooting in the second half going 6-for-23 (26.1 percent). Oklahoma finished 39.3 percent from the field and was led offensively by Buddy Hield with 17 points. The Patriots were held to single digits led by Shevon Thompson and Isaiah Jackson each with nine points.
Oklahoma won the battle on the glass, 47-38, led by Khadeem Lattin with nine rebounds. Thompson led all scorers with 11 rebounds. The Patriots committed just 11 turnovers to the Sooners' 14, but Oklahoma converted Mason's miscues into 14 points on the evening.
Mason opened the contest taking the early lead and held a three-point lead on several occasions, the final time being at the 14:30 mark off a Jalen Jenkins jumper for a 9-6 score. Oklahoma answered with a 7-0 run to take the lead and expanded its advantage to 10 points off a three-pointer from Isaiah Cousins at 4:57. Jackson would cut the deficit to single digits thereafter, but the Sooners closed the half with a 12-8 run for the 37-23 halftime lead.
Both teams shot under 30 percent in the second half, but the Patriots could not capitalize and stage a comeback as Mason never came closer than 12 points in the final stanza. Oklahoma would hold its largest lead of 22 points, 61-39, following a pair of free throws from Frank Booker with 1:40 to play.
The last time a Mason team did not hit a three-pointer in a contest was on November 16, 2012 against Mercer in the Virgin Islands. The Patriots went 0-for-8 from three-point range.
Mason returns to action opening Atlantic 10 Conference play on Saturday in the Patriot Center. The Patriots host La Salle at 7 p.m. for Youth Jersey Day and "Bring A Friend" Night for Mason students. All kids 12 & under who come in their youth jerseys will receive a $10 Concession Voucher to use at any Patriot Center concession stand. Mason students can bring a friend free to the game. Student and guest must enter at the North entrance with a valid student ID. Limit one (1) free guest per student.