New NC State coach Kevin Keatts no stranger to matchups with Virginia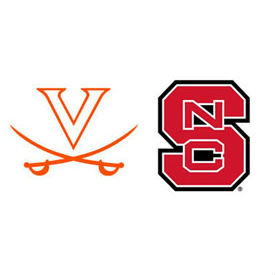 It hasn't been that long since Virginia coach Tony Bennett and NC State coach Kevin Keatts matched X's and O's. It was the NCAA Tournament last March, and Keatts was at UNC Wilmington, where Keatts used a four-guard lineup to give the 'Hoos fits.
Wilmington led by as many as 15 in the first half, but UVA rallied to lead at the break, then held on after nearly blowing a 10-point second-half lead to win, 76-71.
Keatts played only one player taller than 6'7", Chuck Ogbodo, in the game, and Ogbodo got just two minutes off the bench for the Seahawks. He went small out of necessity, playing tempo – his team averaged 70.3 possessions per game – and spreading the floor to create dribble-drive lanes for his guards.
Now at State, Keatts doesn't have to go so small. His front line includes 7-footer Omer Yurtseven, 6'8", 240-pound Abdul-Malik Abu, and 6'8", 265-pound Lennard Freeman, but Keatts' Pack still plays tempo, averaging 72.0 possessions per game, and still spreading the floor.
Even the 7-footer, Yurtseven, is a danger from the perimeter, connecting on 5-of-6 shots from three-point range in NC State's 78-77 win over #19 Clemson Thursday night.
As with most coaches whose teams play tempo, Keatts' Wimington team last year wasn't able to get Virginia out of its tempo comfort zone in the NCAA Tournament matchup last year.
The Seahawks had 65 possessions in the game, though they notably scored 1.09 points per possession, a good bit above the .880 points per possession that UVA allowed opponents last season.
Story by Chris Graham