NFL
Miami rallies from two 21-point deficits, stuns Baltimore Ravens, 42-38, behind six TDs from Tua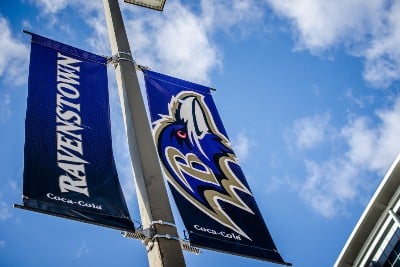 Miami stormed back from a 28-7 halftime deficit, behind six touchdown passes from QB Tua Tagovailoa, the final one a seven-yarder to Jaylen Waddle with 14 seconds left, to score an improbable 42-38 win at Baltimore on Sunday.
The Ravens (1-1) got a monster game from QB Lamar Jackson, who passed for 318 yards and three touchdowns, and ran for 119 yards and a TD on the ground – two of his scores going for 75+ yards, a 75-yard pass-and-sprint to Rashod Bateman in the second quarter, and a 79-yard Jackson run with 26 seconds left in the third that made it 35-14 Baltimore.
Tagovailoa led four TD drives in the fourth quarter for the Dolphins (2-0), two of them to Tyreek Hill, for 48 yards and 60 yards, the latter tying the score with 5:19 to go.
Jackson led a six-play, 42-yard drive that ended with a Justin Tucker 51-yard field goal that put the Ravens on top, 38-35, at the 2:18 mark.
Tagovailoa, who was 36-of-50 for 469 yards on the day, was 4-of-5 for 40 yards on the game-winning drive.
Hill had 11 catches on 13 targets for 190 yards and the two TDs, and Waddle had 11 catches on 19 targets for 171 yards and two TDs for the Ravens, who got a 103-yard kickoff return for a touchdown on the game's opening play from Devin Duvernay.
The Dolphins had two turnovers, both Tagovailoa INTs, and the Ravens did not turn the ball over, but the Baltimore offense did come up short on a fourth-and-goal play at the 1 in the first quarter, at the end of an 18-play drive that consumed 9:58 off the clock.