Lynchburg Hillcats top Salem Red Sox, 7-3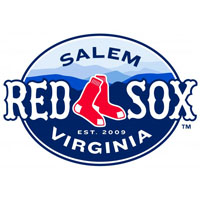 The Lynchburg Hillcats hit three home runs in defeating the Salem Red Sox, 7-3 Thursday night at LewisGale Field.
The Hillcats (71-40, 26-15) took the lead in the top of the second when Taylor Murphy knocked a solo home run against Trey Ball to give Lynchburg a 1-0 lead. Another solo home run – by Sicnarf Loopstok in the top of the third – gave the Hillcats a 2-0 advantage.
Salem, however, evened the ledger against Luis Lugo in the bottom of the third.  Rafael Devers collected an RBI single to drive home Joseph Monge to give Salem (64-45, 21-19) their first run of the game. Mike Meyers plated Devers with an RBI single two batters later to tie the game at two.
Ball was solid in his 6.0 innings of work, allowing just the two runs on five hits, striking out four and walking two. The outing was the lefty's seventh quality start of the season, and was the second consecutive start completing six innings.
The southpaw got the aid of an around-the-horn 5-4-3 triple play in the first inning, the first triple play turned by Salem since July 10, 2000 against the Kinston Indians.
In the top of the seventh, Mario Alcantara (9-2) came in to relieve Ball and allowed a run on a Loopstok triple followed by a Mark Mathias double. In the eighth, Lynchburg plated two more on a Connor Marabell triple to expand its lead to 5-2.
Billy Strode (1-0) tossed 2.0 scoreless stanzas for the Hillcats in relief of the lefty Lugo. Mitch Brown struggled in the bottom of the eighth, issuing three walks and hitting a batter, allowing the Red Sox to score a run and cut the lead to 5-3. Joseph Monge flew out to the warning track in left-center with the bases loaded to end the threat.
In the top of the ninth, new Salem pitcher Jeffry Fernandez served up a two-run home run to Bobby Bradley to allow the Hillcats to balloon the lead to 7-3. Trevor Frank, who stepped in for Brown with two outs in the eighth, closed out the ninth for his 11th save of the season.
The Red Sox continue the series with the Hillcats Friday night at LewisGale Field on College Rivalry Night featuring an appearance from Frank Beamer. First pitch is scheduled for 7:05 pm. Salem will send Anyelo Leclerc (2-1, 4.62) to the mound, while Lynchburg counters with Brock Hartson (0-0, –). For tickets and more information, call (540) 389-3333 or slide towww.salemsox.com/tickets.
Comments