Jinxed: The hard knock life of being a UVA sports fan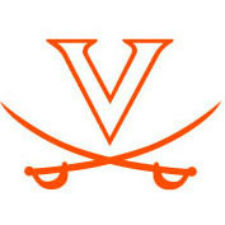 UVA basketball had Ralph Sampson for four years, and has one Final Four appearance to show for it, with seasons ending prematurely due to a charley horse, a missed foul-line jumper and errant pass, Al Wood going bonkers.
Virginia football was #1 in the nation for three weeks in 1990, that run ending in part due to a tight end falling down the steps of his girlfriend's house looking for her dog.
The 1995 football team, arguably a better team than that 1990 #1 team, lost three games on the final play, and almost lost a fourth.
The '95 basketball team, for its part, had a lead late in the Elite Eight with a Final Four berth against North Carolina on the line. That one didn't happen, of course, though the one far more painful is the 2016 team that had a double-digit Elite Eight lead against Syracuse, only to, yeah, come up short.
The 2014 team, the first ACC Tournament winner from UVA in nearly four decades, had Michigan State on the ropes in the second half when forward Anthony Gill went down with a sprained ankle in an eventual one-point loss.
A year late, the 'Hoos were 28-1, but in the midst of running up that record had lost star Justin Anderson to a broken pinkie, then an appendectomy, and when he returned in the postseason, he wasn't the same, and neither was Virginia, which bowed out of the NCAA Tournament in the second round.
Even when the good guys win, it's not without substantial adversity. The 2015 College World Series champs were rolling in mid-April when ace Nathan Kirby was lost to a torn lat, though Kirby would return in the CWS, and recorded the last five outs in the championship game, but that season almost derailed with the Cavaliers falling so hard after the early loss of Kirby that the team barely qualified for an NCAA Tournament bid.
I'm glossing over a lot – losing a 28-0 lead at home against Clemson in 1992, the 2002 hoops team that was ranked as high as #4 in the national polls, only to miss the NCAA Tournament entirely.
And, yes, Virginia athletics boasts 25 national championships, which is 25 more than our rivals down the road in Blacksburg can point to, but, and no disrespect to lacrosse, tennis, soccer or baseball, it's football and basketball that move the needle.
Which is why, now that fans of the Philadelphia Eagles, Chicago Cubs and Boston Red Sox have nothing left to complain about, it's us, UVA Nation, that are the ones left being eternally frustrated.
The news this week that freshman phenom De'Andre Hunter will miss the 2018 NCAA Tournament with a broken wrist caught precisely none of us by surprise.
We knew something bad was going to happen. Maybe Kyle Guy's fiancée would send him out looking for her dog, and he'd text Mamadi Diakite to ask him to help, and they'd both slip on a patch of ice and rupture their spleens; or Devon Hall would tear his lat talking about Justin Anderson's appendix with Ty Jerome, who would at the same instant get a charley horse recoiling at the thought of the surgery, and in the process of falling to the ground plow into Isaiah Wilkins, spraining Zay's ankle.
This is what happens to Virginia in big moments. Idiots on Twitter needle us because our teams can't win the big games, but we know the real deal.
Crap just keeps happening, stupid crap.
It's to the point that it seems as if there's some sort of Babe Ruth or billy goat curse hanging over our teams that we just need to exorcise.
I'd burn some incense as an offering to the sports gods to do my part, but I assume that it would somehow end up with my house in flames, because, well, I don't need to tell you why.
You clicked on the link to read this column; you know.
Story by Chris Graham