Fishburne Military School grapplers set familiar path to state tournament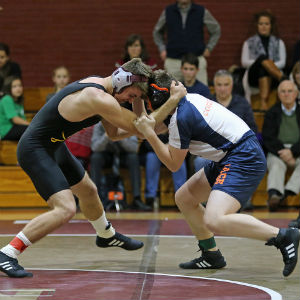 Fishburne Military School wrestling coach Terry Waters is once again preparing multiple wrestlers for the state tournament following the school's third consecutive Virginia Independent Conference runner-up performance.
Last year the Caissons went on to a top-10 performance in the state tournament and were the highest finishing DII school in Virginia. The Caissons hope to repeat that performance again this year as well as add some individual state champions for the first time in five years.
Matthew Farrar (Waynesboro, VA) continued his stellar season with an individual conference championship as well as winning the VIC Wrestler of the Year award.
Levi Smith (Fayetteville, NC) joined Farrar as a conference champion while Silvio Dionisotti (Sudbury, MA) and Austin Lee (McLean, VA) both lost hard-fought championship matches to take second place.
Logan Shiflett (Stuarts Draft, VA) earned a win over a wrestler who beat him earlier in the year and Tristan Difillipo (Florence, NJ) twice had to fight off his back to pick up a win.
"It's been a rough week but I just asked them to leave it all on the mat," said Coach Waters. "I'm pretty proud of this group today."
Fishburne Military School will send nine wrestlers to the state tournament at Woodberry Forest in Orange, VA this Friday and Saturday.