Duke players Grayson Allen, Marvin Bagley III on matchup with #2 Virginia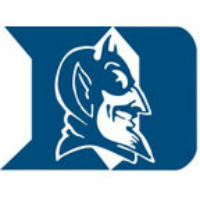 Duke guard Grayson Allen and center Marvin Bagley III talk to reporters about the fourth-ranked Blue Devils' game with #2 Virginia.
Duke senior guard Grayson Allen
On Playing Virginia on Saturday:
"It's a different game than most teams we play. The pace is obviously a little bit slower. They're very deliberate with their offense. Everything they do serves a purpose. They're very sharp on their screens. A lot of times they catch guys sleeping because they'll work the whole possession to get a really good shot.
"Defensively, they're very physical. You have to be very strong with the ball and smart on offense. They're going to play their game. We are not going to speed them up. But we're also going to play our game. We're not changing our style for them. They're not changing our style for us. We're going to stick to what has been successful." 
On Duke's Freshmen Preparing for Virginia's Defense:
"They can be prepared. We're doing a lot of things in practice trying to get them prepared. The physicality of the game is going to be different. I don't know how much we can prepare for that – in combination with their pack-the-line defense. In the game, we're going to have to be strong from the get go.
"The coaches are obviously in their ears, and I'm in their ears, telling them that we can't take two or three possessions to realize how the game is going to be. We have to know that from the start." 
On How to Attack Virginia's Defense:
"You have to move the ball. What they are really good at is that, a lot of times, it looks like there are five guys defending the ball. Everybody is ready to help and recover. They do a great job with their rotations, especially the big guys. They're extremely sharp with it. Because they're so well coached, guys are doing it the right way every single time. That's why it's so tough.
"You're never going to get a break. You're not going to get a soft trap or one you can break through. They're going to come and trap you hard and physical. That's what makes their defense work so well. All teams can have a few defensive possessions here and there, but they're very sharp and locked in to what they do.
"The ball has to be moved. Our offense cannot be stagnant. We have to move and attack. When we're sharing the ball and reversing sides of the court, I think that moves the defense and you can attack a little bit better." 
On Virginia Facing Duke's Offense:
"I don't know every single team Virginia has played, but we're very confident in our weapons. I think that's one of the things that allows us to attack so well. We have been moving the ball so well that a lot of times, the defense can get scrambled. That gives Marvin [Bagley III] or Wendell [Carter, Jr.] more space than the defense would like to. Or Gary [Trent, Jr.] or Trevon [Duval] gets a shot or a drive, because the defense is moving and the help side is not all the way there. That's where we can be dangerous. We have five guys who are playmakers right now. They can do a lot of things with the ball." 
On His Senior Season:
"I didn't look into it a lot. I've learned with these seasons that it's never really going to be how you expect it to be halfway through. For me, I think I'm in the place where I want to be as a leader. I'm getting to the place where I want to be with my play on the court. I'm figuring things out with the rest of the guys. I'm knowing where my shot is and when to facilitate. Defensively, I'm where I wanted to be. That's one of the things I really wanted to pick up this year. I've gotten the hang of it now. I feel like I'm there."
On Duke's Four Starting Freshmen:
"They're very mature. These guys have all had times when they haven't played as well as they would have liked, or they're struggling with something. But now they're all getting to the point where they're confident and secure in their games. They're maturing and becoming smarter at the game of basketball, which I love to see."
Duke freshman center Marvin Bagley III 
On How to Attack Virginia's Defense:
"You have to move the ball. They're very physical in the post. It's going to be a great game. We have to play hard and play together. We all have to be on the same page. We have to make the extra pass. We have to do the small things to get the ball moving and Virginia's defense moving. We have to get them in uncomfortable situations. I don't think it changes the way we play. We just have to make the right plays and reads to get our teammates open looks and score. It should be interesting to see how this game plays out.
"We don't have to be perfect, but we have to limit our turnovers. We have to value the ball every possession. A game like this could come down to it in the last few minutes. Every possession counts. I think we're understanding that and doing a great job in practice of not turning the ball over. I think we'll do a good job tomorrow."
On His Play so far in College:
"I have put so much work into this game. I wouldn't say it's easy. Being able to be on the court with the guys we have does make it a little easier. Without them, it would be tough. Having teammates like Grayson [Allen], Trevon [Duval] and the rest of the guys, we play together so well. Being able to be on the court with them is a fun experience. We're just trying to take it all in and get better." 
On Playing in Cameron on Saturday:
"It should be exciting. A game like this with two competitive teams who are both on a roll right now should be fun. It should come right down to it. Being able to come out and play in front of the Crazies, especially in a game like this, is something I'm really looking forward to. I'm sure my teammates are as well. We all have to come together, play as one and try and get this win tomorrow."
On Great Advice He's Received This Season:
"Just be you. Be yourself out on the court. When I first got here, that was something I was trying to sort of figure out. I was trying to figure out how to fit in with this group. I came a little bit later, so they had been together all summer and figure out some things. Me coming in, I was just trying to see where I fit in. The coaches have done a great job of continuing to tell me to be myself and play the game, relax and let the game come to me. Once I started doing that, the game really started to slow down for me and open up a little bit."
On the Biggest Surprise He's Faced this Season:
"I wouldn't say it's surprising, but the development we've had on the defensive end. We started off kind of not so great on defense. The last couple weeks, I've really seen us make progress on our defense and feet. Everybody is talking more. Everybody is communicating and on the same page more when it comes to that. I don't think it's surprising, but I'm happy to see we're growing on the defensive end."
On the Most Difficult Aspect of His Freshman Season:
"It's a lot of traveling, more than usual. You have to be able to go from a Saturday game to a Monday game. That's something I haven't done in a long time. But that's something this year we'll do a few times. The adjustment to that has been big for me." 
On Playing with Wendell Carter, Jr.:
"Wendell is a great player. It starts off the court. He and I laugh and joke, as does everybody on the team. That helps us when we go on the court. Everybody is already cool with each other. When we're on the court, I'm finding him and he's finding me. We play off of each other. If somebody doubles one big, we're trying to move around. It's fun to be a part of a team like this with a big to play alongside of like him, somebody with that caliber. So is Marques [Bolden]. Everybody we have on this team is very talented and athletic. I'm just happy to be a part of it."