Cold shooting costs VMI in 63-46 loss to Wofford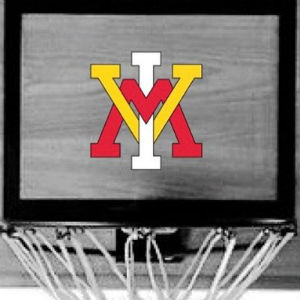 The VMI Keydets committed 20 turnovers and shot just 3 of 23 from three-point range Wednesday evening, on the way to a 63-46 loss to the Wofford Terriers in SoCon basketball action at Cameron Hall in Lexington.
Wofford (15-5, 6-1 SoCon) played without standout forward Cameron Jackson and saw sharpshooter Fletcher Magee go just 1 of 10 from three-point range, but the Terriers blew open the game with a 22-9 run in the final 10 minutes to pull away for the win.
For VMI (6-13, 1-7), the story was the turnaround from Saturday's win over The Citadel. The Keydets made a season-high 14 three's in that game, but missed their first nine Wednesday on the way to a 13% effort from long-range. That marked the lowest three-point percentage by a VMI club since Dec. 30, 2013.
Wofford responded to a Tyler Creammer basket to start the game with a 14-2 run and led the rest of the way, but the Keydets mounted a rally with 13:40 remaining. Fred Iruafemi scored to start a 9-0 run that cut a 16-point lead to seven, and the Keydets had two shots on the ensuing possession to get as close as four. Keith Smith misfired on a three, however, and Jordan Ratliffe was unable to convert as well.
The visitors then answered with back to back three-pointers, starting a 22-9 run that allowed them to pull away for the win.
Wofford finished the game 20 of 52 (38.5%) from the field and 10 of 26 (38.5%) from three-point range, as well as 13 of 17 from the line (76.5%). VMI was 14 of 46 (30.4%), 3 of 23 (13%) and 15 of 18 (83.3%) in those same categories, as the Keydets posted their lowest point total since scoring 41 points against Winthrop in January of 2008.
The Keydets were paced in defeat by Bubba Parham, who scored 11 points as the lone Keydet in double figures. Trevor Stumpe led Wofford with 19 points.
VMI basketball will return to action Saturday in Chattanooga, Tenn., when the Keydets take on the Chattanooga Mocs. Tip time is set for 5 p.m.
Postgame: VMI coach Dan Earl
"It was a tough effort and we showed our age tonight. It was disappointing. Unfortunately, we shot the ball poorly – when you shoot 30 percent overall and 13 percent from 3-point range, it's hard to win with that. Plus, 20 turnovers. We talked about turning the page after the good win against The Citadel and I expected to be a little bit different today, but unfortunately, we were just flat."
"It wasn't a clean game. It seemed like whenever we were starting to put something together we would miss a shot or turn it over at a crucial time."
"Credit Wofford. They are very well coached and had a great defensive game plan and stayed in front of us throughout. We just didn't get good looks and we have to move faster and be sharper in execution, but credit Wofford as well for playing a very good defensive game."