The Augusta Health Stroke Program has received the Get with the Guidelines—Stroke Gold Plus Achievement Award with Target Stroke Honor Roll Elite Plus recognition from the American Heart Association.  The recognition is for achieving an aggressive set of quality goals for stroke patients—those goals are the 'guidelines'—for 12 consecutive months.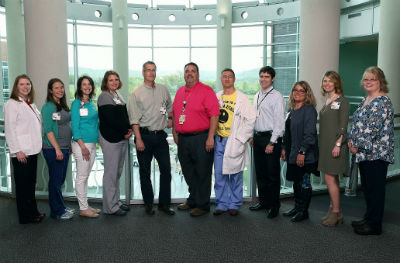 The Gold Plus Quality designation signifies that the Augusta Health Stroke Team achieved 85% or higher adherence to all indicators for at least 24 months and has 75% or higher compliance with five additional quality measures.  To qualify as a Target Stroke Honor Roll Elite Plus hospital, Augusta Health met a separate set of quality measures that specifically reduce the time between a patient's arrival at the hospital and treatment with the 'clot busting' drug, tPA, tissue plasminogen activator.  If given intravenously within the specified time period after the start of stroke symptoms, tPA can significantly reduce the effects of stroke and lessens the chance of permanent disability.
The goal of the quality measures is to help hospital teams like Augusta Health's to follow the most current, evidence-based guidelines to speed recovery and reduce death and disability for stroke patients.
During the most recent Community Health Needs Assessment conducted by Augusta Health in 2016, 3% of local residents indicated they had experienced a stroke.  This is a higher reported rate than state-wide (2.8%) or nationally (2.6%).
"A stroke patient loses 1.9 million neurons each minute stroke treatment is delayed," said Amy Markham, RN, Stroke Team Coordinator at Augusta Health.  "This recognition from the American Heart Association and American Stroke Association demonstrates our commitment to delivering advanced stroke treatments to our patients quickly and safely.  We are always working toward excellence in treatment of our patients, and are very pleased to receive this acknowledgement of our team's hard work and efforts."
Augusta Health is an independent, community-owned, not-for-profit hospital whose mission is to promote the health and well-being of its community through access to excellent care.  Named one of the 100 Top Hospitals in America by Thomson Reuters/Truven in both 2011 and 2012, Augusta Health has also been nationally recognized by HealthGrades as one of America's 50 Best Hospitals for clinical excellence and patient safety for three consecutive years.  For more information about Augusta Health, its programs or its services, please visit the website, www.augustahealth.com.