Politics
'We're at war': Rhetoric from Trump, Republicans pushing U.S. to the brink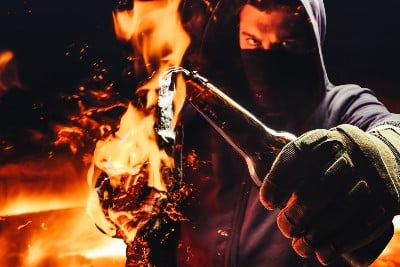 Few would want to admit it, but the wartime rhetoric on right-wing TV and on online forums in the wake of the FBI search of former president Donald Trump's Florida golf club has to make you think something more violent than Jan. 6 could be brewing.
"The posts on these pro-Trump forums tonight are as violent as I've seen them since before Jan. 6th. Maybe even more so," said Ben Collins, who covers extremism and disinformation for MSNBC.
The only thing missing is a trigger from Trump himself, according to Collins, noting how Trump had signaled to supporters that they needed to be in Washington for the Jan. 6, 2021, certification of the presidential election results, with his infamous "will be wild" tweet, and the response that we saw from them that day.
Basically, they're just waiting for another "will be wild" call to action.
"They are ready to go," Collins said.
Trump hasn't exactly been silent since the FBI search. It was Trump himself who broke the news, with a statement issued through his PAC full of his usual "dark times" imagery, making himself into a victim, claiming his house was "under siege" by the FBI, decrying the "weaponization" of the justice system, saying such things only happen in "broken, Third-World countries."
The message, muted, for now, for Trump, still seems to be getting through, with help from minions like Steve Bannon, a former Trump White House advisor, who used the actual words "we're at war" in an interview with Fox News host Will Cain in which he called the FBI, which is headed by a Trump appointee, Christopher Wray, "the Gestapo."
Another Fox News host, Jesse Watters, called for Wray to be fired, declaring the director to be "corrupt," and Watters' show included an interview with radio host Buck Sexton, who called the FBI search a "pre-emptive coup."
The electeds are getting in on the act, though, like Trump, they've been a bit more measured. House Minority Leader Kevin McCarthy, for one, offered a promise to investigate the Justice Department if Republicans win control of the House in the November midterms, harkening back to the other waste of time House Republican investigations of yesteryear, like the Hillary Clinton email server, Benghazi, and way back, to Whitewater.
Trying to do his part, Virginia Republican Congressman Ben Cline tweeted last night using the Trump framing of the search as "continued weaponization of the Department of Justice to target a past and possibly future political opponent."
"That's a story from a third world country; not from America," Cline tweeted, again using Trump's framing.
This was typical Cline: not an original thought visible anywhere in the vicinity.
Another Virginia Republican, Morgan Griffith, using the Trump framing of the FBI search as a "raid," at least offered up something new, calling on the FBI and Department of Justice in a statement to "offer an explanation immediately."
"Attorney General Garland and Director Wray cannot expect that Americans kept in the dark about their unprecedented choice will retain any faith in their impartiality," Griffith said.
This has been a common issue raised on the right, that the FBI and DOJ haven't been forthcoming with the evidence they presented to a judge requesting the search warrant.
But as California Democratic Congressman Eric Swalwell retorted in a tweet: "Donald Trump has a copy of the search warrant. He'd show us the warrant if he were so wronged. Show it or shut it."
It's not about Trump actually being wronged, of course. The guy expertly unleashed the pent-up frustrations of tens of millions of closet fascists, racists and willful know-nothings, and if Jan. 6 demonstrated anything, it's that he can, with a snap of his fingers, whip up a mob of domestic terrorists that came thisclose to overthrowing American democracy.
Those folks are the toothpaste that isn't going back in the tube. They haven't spent the past year and a half repenting, assimilating; they've been trying to figure out what they did wrong on Jan. 6 so that the next time, they get it right.
Are we headed toward a civil war? I don't know how we're not.