Waynesboro Police searching for man on child porn charges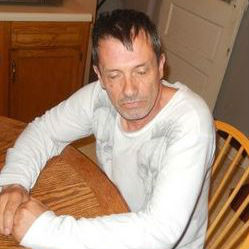 Update: Friday, 10:49 p.m. Timothy Franklin Landes is in custody.  Alert tipsters gave information regarding Landes' whereabouts after seeing the reports in local news media.  Officers arrested him on the felony charge in Fishersville at approximately 12:45 p.m. today.  He is being held without bond at Middle River Regional Jail.  The child sexual assault investigation continues.
Original post: The Waynesboro Police Department is requesting the public's assistance in locating a Waynesboro man wanted on a child pornography charge stemming from a 2013 incident.
Timothy Franklin Landes, 55, faces a single felony count of knowingly and intentionally creating a videographic image of a minor.
The Police Department opened a sex crimes investigation naming Landes as a suspect earlier this month. The investigation is ongoing and additional charges are possible.
Landes' family was last in contact with him on Tuesday, April 26.   He is currently at large and possibly suicidal.
If anyone has information on Landes' whereabouts, please call Central Shenandoah Crime Stoppers at (800) 322-2017 or the Waynesboro Police Department at (540) 942-6675.  Information given to Crime Stoppers may be given anonymously and subject to a cash reward of up to $1000.
Please monitor the Waynesboro Police Department's Facebook page for updates to this situation.  facebook.com/wpdva.
Comments