VMI basketball tops Charleston Southern, 92-84
D.J. Covington had 26 points and 12 rebounds for his 11th double-double this season, leading the VMI Keydets over the Charleston Southern Buccaneers, 92-84, in Big South basketball action Saturday afternoon at Cameron Hall in Lexington, Va. The win was VMI's fourth straight overall, the longest such streak by the Keydets this season, and was the team's 250th win at Cameron Hall.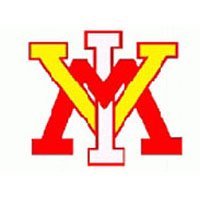 Despite Covington's overall statistical leadership, it was arguably Brian Brown who hit the biggest shots for VMI Saturday. After the Keydets (14-9, 7-3 Big South) had controlled the early minutes, the Bucs (10-13, 4-6 BSC) had gone ahead 28-25 after two Malcolm Bernard free throws at the 9:48 mark. Brown then hit three-pointers on three straight Keydet possessions, staking his team to a five-point advantage that it would not relinquish the rest of the way.
Brown finished the day with 14 points, including a 4 of 7 performance from long-range, while Covington's double-double equaled the number put up by last year's Big South Player of the Year, Stan Okoye, during the 2012-13 season. No other Keydet had posted double figures in that statistic since the 2007-08 campaign. Those two players led five Keydets in double figures, as QJ Peterson hit for 22, Rodney Glasgow notched 18 and Trey Chapman chipped in 10 markers.
CSU also put five players in double figures, led by Saah Nimley's 17 points.
The game was fairly close early, as after the Bucs took a 7-6 lead, the Keydets used an 8-0 run and led 14-7 after a Brown three-pointer at the 16:08 mark. CSU responded by scoring seven of the next nine points and cutting the lead to two, but VMI scored four of the next five to continue to the game of runs and lead, 22-17 on a Peterson basket with 13:50 on the clock.
The Bucs then went on their biggest run of the game, a 9-0 push that included three-pointers by Strickland and Bernard to give them a 26-22 lead with 10:40 remaining in the first half. Glasgow quickly answered with an old-fashioned three-point play, but Bernard's two free throws gave CSU a three-point cushion and set the stage for Brown's long-range bombing.
After Brown's three straight triples, the Keydets pushed their lead to as many as 14, 45-31, before settling for a 50-38 halftime lead. Covington led the way for the home team in the opening period, posting 18 points, five rebounds and six blocks, five of which came in the first 11 minutes of the game.
The second half was primarily back and forth play, with CSU getting within eight in the opening moments, but the Keydets quickly stretching the lead to as many as 17. That came at 65-48 with 12:25 to go, and from there, the VMI advantage sat between 10 and 16 until the Bucs got it down to eight in the final minute, 90-82.
The visitors got no closer, however, and the Keydets were able to move to 7-3 in Big South play and continue to sit in first place in the conference's north division.
VMI finished the game 28 of 58 from the field (48.3%) and 11 of 22 (50%) from three-point range. CSU fell behind early, thanks in large part to a 12 of 41 first half shooting effort (29.3%), and could only recover to 28 of 82 (34.1%) for the game.
The Keydets held the Bucs, who came in ranked second in Division I in three-pointers per game at 10.5 per contest, to a 7 of 22 effort from long range, while hitting 11 of 22 in their own right. VMI also won despite trailing 48-10 in bench scoring, their second-largest deficit in that statistic this season.
VMI basketball will return to action Wednesday, taking on the Coastal Carolina Chanticleers at Cameron Hall as VMI bids for its fifth straight win. Action gets underway at 7 p.m.
Quotes – VMI Head Coach Duggar Baucom
"Our guys fought – I thought we got a little tired at the end, but I was proud of them to go through what we did on Wednesday and be as sharp as we were today getting off to a good start."
"Trey Chapman made some great plays and stepped up and made some free throws going five for six and made a huge three."
"We were down four in the first half and Brian Brown hit four 3's to put us up 14. What Brian doesn't get credit for is how good defensively he was in the second half."
"We turned it over a little more than we normally do. I don't know if that had to do with fatigue."
"With the exception of a few free throws, D.J. Covington did everything else. He played really well and had six blocks with five early in the first half. He's worked really hard."
Comments