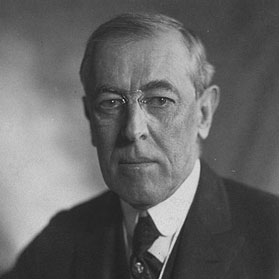 The Woodrow Wilson Presidential Library and Museum invites families and children of all ages to the unveiling of Woolly Wilson, The Presidential Sheep on Saturday, March 5 from 11 AM- 3 PM.
This permanent children's exhibit which will be on display throughout the Museum, interprets the life and times of President Woodrow Wilson, Staunton's favorite son.
The exhibit character, "Woolly", is based on the black faced sheep that closely resemble the prestigious crew of animals that once called the White House grounds home.  These pets were used to trim and fertilize the lawn to keep grounds costs down during World War I, and their wool was sold at auction to raise over $52 thousand for the Red Cross. Originally a flock of 12 sheep and 4 lambs, the flock grew to 48 at its peak. Endearingly named "Woolly" by WWPL Museum staff, he will greet young guests and guide them through the museum with child friendly text, fun facts, and scavenger hunts at their level. This will be the first exhibit specifically designed for children in the Woodrow Wilson Library Museum
The "Woolly unveiling" is free and open to the public. Games, Activities, and even some Sheep provided by Cross Creek Farm will round out this fun and educational day.  The Woodrow Wilson Presidential Library and Museum is located at 20 N. Coalter Street in Staunton, Virginia. Additional parking will be available in the Market Street (Hardy) parking lot.