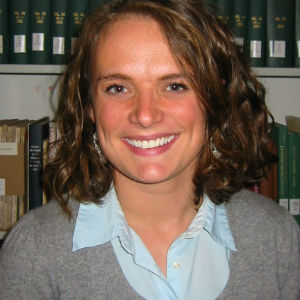 The Woodrow Wilson Presidential Library and Museum announced that Elizabeth J. "Libby" Shortt has been appointed the Presidential Library's new head archivist.
Shortt previously worked as membership services and special events coordinator at the Library before assuming the role of interim archivist in January. As head archivist, she will manage the day-to-day operations of the Library and Archives as well as supervise library staff, provide oversight to the library's budget, and oversee the library's information and technology functions. In addition, Shortt will engage in outreach efforts, onsite presentations, and maintain donor relations.
"The Woodrow Wilson Presidential Library Foundation, is pleased and fortunate to have someone with the training, experience and energy of Elizabeth Shortt to fill the position of Lead Archivist," said Don W. Wilson, president and CEO of the WWPL. "She is a great choice to lead the research operations of the e-library as we grow our research collections and make more historical materials available to researchers through the internet. She is a wonderful addition to our leadership team. We are honored that Libby has agreed to take on the role of Head Archivist."
Shortt has a B.A. in English from Cedarville University, an M.S. in library science from the University of Kentucky, and is a member of The Virginia Association of Museums. She has served the WWPL in numerous capacities since June 2009, and currently resides in Staunton, where she has lived since June 2008.