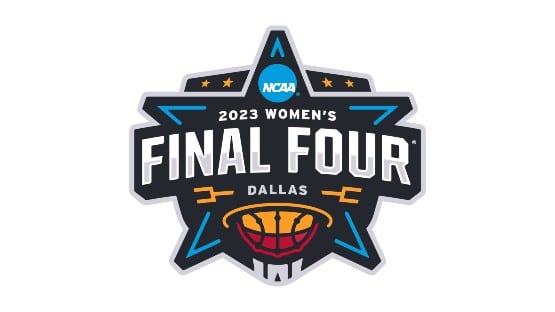 The NCAA women's Final Four tips off at the American Airlines Center in Dallas Friday night, with a pair of intriguing national semifinal matchups on deck to determine which teams will battle it out for a championship trophy Sunday afternoon.
Virginia Tech (31-4) goes up against LSU (32-2) in Friday's first game at 7 p.m., and then Iowa (30-6) takes on undefeated South Carolina (36-0) in the nightcap at 9. Both of Friday's games will be televised on ESPN, while Sunday's national championship game is set for 3:30 p.m. on ABC.
Here's a breakdown of each semifinal, complete with how they got here, rankings, stats, players to watch, tournament history and more.
Virginia Tech Hokies vs. LSU Tigers
The line: LSU by 2.
Final AP ranking: LSU 9; VT 4.
Final NET ranking: LSU 3; VT 9.
Record vs. AP Top 25: LSU 3-1; VT 8-2.
Road to the Final Four: LSU — def. No. 14 Hawaii, 73-50; def. No. 6 Michigan, 66-42; def. No. 2 Utah, 66-63; def. No. 9 Miami, 54-42. VT — def. No. 16 Chattanooga, 58-33; def. No. 9 South Dakota State, 72-60; def. No. 4 Tennessee, 73-64; def. No. 3 Ohio State, 84-74.
The breakdown: The magical run continues for the ACC-champion Hokies, who haven't lost a game since Jan. 26, reeling off 15 wins in a row en route to their first Final Four trip.
"There was no yelling in the locker room after that game," head coach Kenny Brooks recalled of the 66-55 loss at Duke. "I told the kids, let this sting. We'll get another opportunity to play them, and I said, don't let it bother us. Let it kick us forward.
"From that moment, the look in their eyes, they've been pure professionals. They've gone out, everyone understands their role and they've done them and they've starred in their roles.
"The way these kids play for each other is something special. I've never had a group that plays for each other as much as this group does."
It all starts with back-to-back ACC Player of the Year Liz Kitley, a 6-foot-6 senior center from Summerfield, N.C., who is averaging 18.2 points, 10.7 rebounds and 2.3 blocks per game to lead the Hokies. She's a finalist for both the Naismith and Wooden Award for national player of the year.
Along with Kitley, junior point guard Georgia Amoore (16.3 ppg, 5.0 apg) has been red hot in tournament play, knocking down 20 3-pointers during March Madness. Those two combined for 49 points — Kitley 25, Amoore 24 — in the Elite-Eight victory over the Buckeyes.
Boston College graduate transfer transfer forward Taylor Soule (11.1 ppg, 5.7 rpg), fifth-year guard Kayana Traylor (10.8 ppg) and senior guard Cayla King (8.1 ppg) are the Hokies' other starters.
LSU finished right behind South Carolina in the SEC regular-season standings, with the only loss coming against the Gamecocks. The third-seeded Tigers are in the Final Four for the sixth time in school history after winning the "Greenville 2" region.
The Tigers went to five-consecutive Final Fours from 2004-08, but have never played in a championship game. In just her second season in Baton Rouge, head coach Kim Mulkey, who won three national titles in her previous 21-year tenure at Baylor, is looking to not only get this team to the title game, but add another banner to her collection.
"I want you to see those banners behind you right there… Nowhere on there does it say, 'National Champion.' That's what I came here to do," Mulkey said in her introductory press conference in 2021.
This week, she was asked about leading her current group into what is, for them, uncharted territory.
"Are we satisfied? Are we patting ourselves on the back and saying, 'Hey, is this as far as we can go?' Or are you still hungry?" Mulkey said she asked her players. "And the responses that I received are, 'Coach, we're ready to move on and get to the next game.' When you have kids that are hungry and not satisfied to just be there, you're going to go compete. Whether we win or lose, I know we will compete."
Sophomore forward Angel Reese (23.2 ppg, 15.7 rpg) has recorded an SEC-record 32 double-doubles, and another one against the Hokies would tie a Division-I single-season record.
Grad transfer guard Alexis Morris (14.9 ppg, 4.1 apg) has played for three other schools (Baylor, Rutgers, Texas A&M), but is back with Mulkey, who recruited her out of high school in 2017.
Freshman guard Flau'jae Johnson (11.1 ppg, 5.9 rpg) was a McDonald's All-American, and has a future in the music industry as well after recently signing a major rap deal off the court.
Two more grad transfers — forward LaDazhia Williams (9.4 ppg, 6.0 rpg) and guard Jasmine Carson (8.6 ppg) — round out the starting five for the Tigers. Carson has connected on a team-high 57 3-pointers this season.
It will be a battle of heavyweights on the biggest stage, and Mulkey knows that Kitley and Amoore will be a handful.
"Kitley is a problem with her height and her ability to shoot the face-up jumper," Mulkey said of defending the Hokies. "She's not just a back-to-the-basket post player. Amoore, boy, she's got range and she's got just a deadly step-back move out there on the perimeter."
South Carolina Gamecocks vs. Iowa Hawkeyes
The line: South Carolina by 12.
Final AP ranking: Iowa 3; USC 1.
Final NET ranking: Iowa 6; USC 1.
Record vs. AP Top 25: Iowa 8-4; USC 7-0.
Road to the Final Four: Iowa — def. No. 15 SE Louisiana, 95-43; def. No. 10 Georgia, 74-66; def. No. 6 Colorado, 87-77; def. No. 5 Louisville, 97-83. USC — def. No. 16 Norfolk State, 72-40; def. No. 8 South Florida, 76-45; def. No. 4 UCLA, 59-43; def. No. 2 Maryland, 86-75.
The breakdown: Friday's second national semifinal might be one of the most highly anticipated matchups in years. Iowa received the No. 2 seed in the "Seattle 4" region and is in the final weekend for the first time since 1993 after coming up one game short in 2019.
The Hawkeyes have won eight-straight games heading into the weekend, including a 33-point victory over Ohio State (105-72) in the Big Ten championship game.
Iowa is the highest-scoring team in the nation at 87.6 points per game, and much of that success can be attributed to the play of 6-foot junior superstar guard Caitlin Clark, another contender for national player of the year.
Clark, fresh off the only 40-point triple-double by anyone (male or female) in NCAA Tournament history, leads the Hawkeyes with an average of 27.3 points, while also dishing out 8.6 assists and hauling in 7.3 rebounds per contest (both team highs).
She scored 41 points (11-for-19, 8-for-14 from downtown) to go along with 12 assists and 10 rebounds in the historic performance against Louisville on Sunday. In the process, Clark also became the first and only woman in NCAA history to score at least 900 points and dish out 300-plus assists in a single season.
Fifth-year forward Monika Czinano (17.2 ppg, 6.6 rpg) and senior forward McKenna Warnock (11.1 ppg, 6.0 rpg) may be asked to step up their efforts if Clark gets extra defensive attention Friday night against the Gamecocks.
The same will be asked of senior guards Kate Martin and Gabbie Marshall, who combined for five 3-pointers against the Cardinals, as they round out the starting group for Lisa Bluder, the program's all-time winningest coach who is now in her 23rd year in Iowa City.
Bluder knows her team faces a challenge on the boards against the Gamecocks, who average 18.1 offensive rebounds per game, good for second in the nation.
"How do we deal with their height? We can't really handle it one-on-one, in my opinion," said Bluder. "We have to have help from other people and do our best that we can to get a body on them, just be able to get over-the-back calls if we can get some. I know they don't come very often against [the Gamecocks]. I mean, it's the only thing you can do, right? Box out and hope for the best on that. Try to hit more threes than they can hit twos."
Carolina, the tournament's top overall seed, emerged from the "Greenville 1" bracket and is back in the Final Four for the fifth time in the past eight seasons. The Gamecocks, who hoisted the trophy in 2017 and 2022, are aiming to become the first school to win back-to-back titles since UConn captured four in a row from 2013-16. Carolina defeated the Huskies in the championship game last April.
Head coach Dawn Staley, a former University of Virginia All-American, knows that if her team is to advance past the Hawkeyes, it will revolve around containing Clark on the defensive end, which just so happens to be something the Gamecocks specialize in.
"Obviously we really haven't played against a player like Caitlin and her ability to have a big game, fill up the stat sheet," said Staley. "So obviously I think for us, we have to take something away — her ability to score in bunches or her ability to distribute the basketball. She just really can't have the full tilt of what she does.
"If you allow her to do that, they win every time. If she gets 40 points and 10 assists, that's pretty tough, that's pretty tough for any team to overcome because that means everybody is getting involved. You can't have everybody getting involved with how well they shoot the basketball and how well she facilitates."
USC ranks third in the country in scoring defense (51.1 points allowed per game). Senior star forward Aliyah Boston (13.2 ppg, 9.8 rpg) has registered nine career double-doubles in the postseason, while 6-7 junior center Kamilla Cardoso adds 9.7 points, 8.4 rebounds and 1.9 blocks per game down low.
Boston is also a finalist for the Naismith Award, along with Kitley, Clark and Villanova's Maddy Siegrist. Boston won the Lisa Leslie Award last season as the nation's top center, and is a finalist again this year.
Senior guard Zia Cooke, who registered 18 points and 8 rebounds in the win over Maryland on Monday, is the team's top scorer on the season with 15.1 per contest. Aside from senior forward Laeticia Amihere (7.1 ppg), nobody else on the roster averages more than 6.5 points per game, but the Gamecocks have a total of 12 players who are averaging at least 8 minutes per outing, and obviously possess the depth to rotate in fresh legs and wear opponents down.
While the mighty Gamecocks may be a heavy favorite, expect the Hawkeyes to give it everything they've got until the final horn.
"Yeah, I mean, America gets to see two fabulous, spectacular basketball players in the same 40 minutes," said Bluder. "It doesn't get a lot better than that."