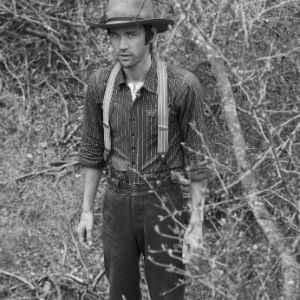 Willie Watson, formerly of Old Crow Medicine Show, will headline Shelter Fest 2015, a concert to support the homeless and others in need.
The show is scheduled for August 29 in the Barn at the scenic Sinkland Farms, 3020 Riner Road in Christiansburg.  Live music, including Cody Weston Atkins of Newport, Howlin Mudbellies of Blacksburg, and the Virginia Tech Naturally Sharp acapella group, will start at 5 pm. Watson will take the stage at 8 p.m. Food by Due South BBQ and Appalachian Frucking Delicious, as well as adult beverages, will be available at 4 pm when gates open. Tickets, $16/advance and $20/door (children 12 and under free), are on sale now at unitedwaynrv.org and Due South BBQ.  The event will be held rain or shine.
Watson, a folk singer-songwriter, guitarist, banjo player and harmonica player, was a founder and key member for 16 years of the acclaimed Americana string band Old Crow Medicine Show.
Watson, who parted ways with the band in 2011, released his debut solo album Folk Singer, Vol.1 on Acony Records in May 2014. This release is a collection of nine covers of traditional folk songs and one original "that not only captures the sound, but the spirit of folk music as few have done in this generation," wrote music reviewer Richard Marcus on seattlepi.com.
Watson is recognized for his skills to channel with authenticity the very folk singers, country troubadours and blues men he seeks to resurrect through this music. "Stern faced and focused, he comes out and sings with such a fierceness, dedication and heart to the emotions and humanity behind the stories he's singing about . . . Willie Watson comes across more like Woody Guthrie than Woody Guthrie," said a review on Savingcountry.com.
Watson has been called "Bob Dylan without the nasal whine or pretension," but Willie is a lot more humble than that, according to his facebook page. "I try to take songs I can relate to and that I can sing with urgency, that I can feel," Watson said. "I'm just happy if people dig it."
Rolling Stone magazine included Watson's new release in its column, "The 26 Albums of 2014 You Probably Didn't But Really Should Hear."  Take Rolling Stone's advice — don't miss Watson.
Proceeds from Shelter Fest 2015 will benefit To Our House, a program providing winter shelter for homeless men, and the United Way of Montgomery, Radford & Floyd.
To Our House, a New River Community Action (NRCA) program and a United Way agency, has provided temporary winter shelter to New River Valley homeless men for the past five years thanks to collaborations with faith- and community-based organizations and volunteers. To Our House was formed in 2008 after the death of a Blacksburg homeless man, Teddy O. Henderson; the organization (TOH) adopted his initials. This past winter, 52 New River Valley men were given a warm bed and hot meal through To Our House, and of those men, 19 guests received jobs and 25 received housing as the result of TOH services. More information on To Our House can be found at www.ToOurHouse.org.
United Way of Montgomery, Radford & Floyd unites local people and resources to improve lives in the New River Valley.  Local United Way programs include: prescription discount cards; federal emergency and food shelter programs; financial, technical, and administrative assistance to non-profits; food and clothing drives; information and referral services; Christmas assistance program; school supply drive; and a volunteer center. UWMRF provides financial support to 26 partner agencies, including To Our House.  More information on UWMRF can be found at unitedwaynrv.org.
For more information about Shelter Fest 2015, please go to www.unitedwaynrv.org or contact [email protected] or (540) 381-2066.