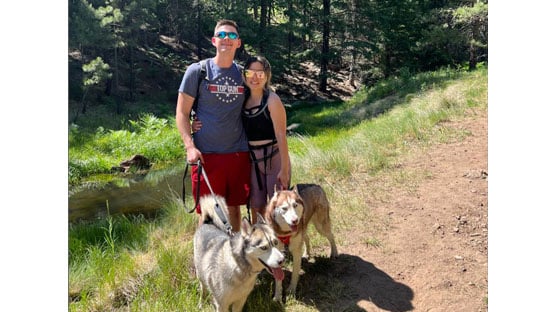 Moving to Augusta County has turned into a nightmare for a veteran and his wife who relocated to Virginia after his service to work on his master's degree and enjoy the snow and beauty of the mountains with their two huskies.
A neighbor he had never met allegedly shot and killed his service dog, Bear, and now the neighbor's wife, who still resides next door, seems hellbent on terrorizing the couple, or worse.
On Thursday, Joeseph Sande was taking his surviving husky, Hazel, on a walk to their mailbox, when the wife of Louis Edward Davis Jr., Teresa Griffin Davis, attempted to run him and Hazel down at approximately 2:45 p.m., Sande said.
He said that while on the walk, he recognized Teresa Davis and her vehicle coming toward him and became alarmed when she accelerated in his direction, and when he stood his ground, with Hazel in between his legs, she drove at a reckless speed directly at him and swerved away at the last second.
Thankfully, Joeseph Sande and his dog, Hazel, were not injured.
Sande went to the Augusta County Sheriff's Office after the incident Thursday to report what happened. The magistrate took his statement, Joeseph said, and told him she planned to issue an arrest warrant for the wife based on the allegation.
According to the Augusta County Sheriff's Office, Teresa Griffin Davis "was arrested this morning and served with all outstanding paperwork. She was released by the state magistrate on an unsecured bond," said Leslie Snyder, an administrative lieutenant, in an email to AFP today at 11:21 a.m.
Augusta County General District Court Judge Rupen Shah denied bond twice for her husband, Louis Edward Davis Jr., in relation to the animal cruelty felony charge for allegedly killing Bear. However, on appeal, Davis was granted a $5,000 bond from Augusta County Circuit Court Judge Paul A. Dryer on Tuesday.
Louis Davis must reside at an alternate address in Waynesboro under the bond conditions until the hearing scheduled for Dec. 5 at 1:30 p.m. in Augusta County General District Court.
The Sandes, and another neighbor, Renee Roberts, were granted a temporary protective order from Louis and Teresa following the bond hearing. Davis' wife, in particular, was hostile toward Roberts at the hearing, calling her a "bitch," according to Roberts.
A hearing is scheduled for Oct. 6 at 9 a.m. for the Davises related to the protective orders.
Another hearing will be set, Sande said, to address yesterday's incident.
Roberts said that she and the Sandes are living in fear of the couple.
"They think they are above the law," Roberts said of the Davises. "And a protective order means nothing to people of this caliber," she worries.
Edith Sande, clearly emotional after what happened to Joeseph and Hazel, told AFP they are very upset.
"We tried to tell the judge that we were in danger," Edith Sande said. "This feels like a true nightmare."
Related stories
Augusta County: Conditions for bond released for man accused of killing veteran's service dog
Augusta County judge approves bond for man accused of killing vet's service dog
Augusta County: Bond appeal filed by man accused of killing neighbor's service dog
Bond denied for Augusta County man accused of shooting service dog
New to Virginia, Augusta County military vet's service dog shot and killed by neighbor