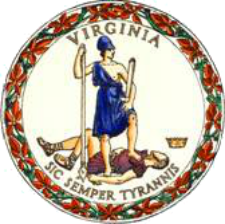 Commissioner Wesley G. Marshall has been elected to a three-year term as Chairman of the Virginia Workers' Compensation Commission (VWC), effective July 1. He succeeds Commissioner Roger L. Williams, whose term ended June 30, 2015. The VWC's three Commissioners – Marshall, Williams and R. Ferrell Newman – serve as appellate-level judges at the agency and direct its operations and staff of 270.
Marshall, of Fredericksburg, was appointed to the VWC in May 2012. From 1988 to 2012 he was an attorney in private practice, primarily representing plaintiffs in workers' compensation, employment and other civil litigation.  He was educated at the University of Virginia where he earned his B.A. with distinction in 1985 and his J.D. in 1988.
Commissioner Marshall serves on the Executive Committee of the Southern Association of Workers' Compensation Administrators, the Dispute Resolution Committee of the International Association of Industrial Accident Boards and Commissions and was a founding member of the Virginia Workers' Compensation American Inn of Court.
In 2015 he was inducted as a Fellow in the College of Workers' Compensation Lawyers.
The Virginia Workers' Compensation Commission, established in 1918, is an independent state agency that protects the interests of injured workers and supports the safety and health of Virginia workers. Its primary role is to interpret and apply the Virginia Workers' Compensation Act and to oversee the resolution of workers' compensation claims through mediation and or hearings.
A 2014 Oregon study ranked Virginia as the fourth-lowest cost system in the nation. Virginia's workers' compensation insurance rates are 37% below the median state reported in that study. Last year, VWC processed more than 50,000 claims and issued more than 5,500 judicial opinions. Increasingly, claims are being resolved through the VWC's voluntary Alternative Dispute Resolution Program which was expanded in 2012.
The Commission also administers the Criminal Injuries Compensation Fund, the Uninsured Employer's Fund, the Medical Costs Peer Review Program, the Second Injury Fund, and adjudicates claims filed pursuant to the Virginia Birth-Related Neurological Injury Compensation Program. The VWC is headquartered in Richmond, Virginia, and operates six regional offices in Lebanon, Virginia Beach, Roanoke, Harrisonburg, Manassas, and Fairfax.