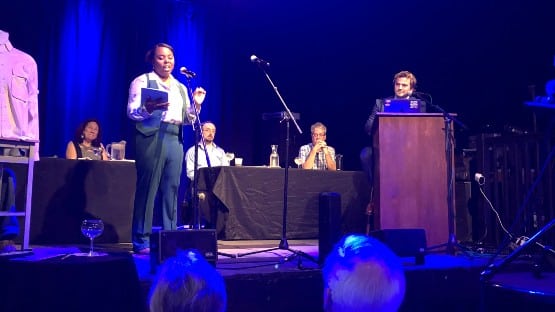 The Staunton Democratic Committee's candidates forum Tuesday evening allowed audience members to ask questions in a town-hall-style platform.
Each candidate was allowed an opportunity to introduce themselves, then moderator Nathan Sealove volleyed questions from the committee and the audience before each candidate shared a closing statement.
Jade Harris, candidate for Virginia's District 3, is former vice mayor of Glasgow, Virginia Young Democrats Black Caucus Vice Chair and assistant manager of The Split Banana in downtown Staunton.
Harris said she is running because she does not want Virginia's big cities to forget Staunton.
"We've got serious problems here in the 3rd, and we need serious people ready to find solutions," Harris said.
Retired Harrisonburg teacher Kathy Beery is running for District 2 against incumbent Mark Obenshain.
"No one should be running unopposed," the JMU grad said. "That's not democracy. We have to have choices."
Beery's priorities are affordable housing, affordable child care, transportation, business and public education.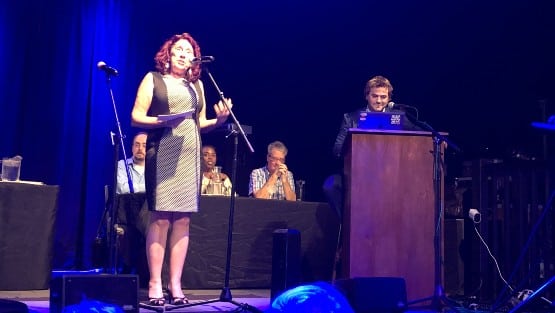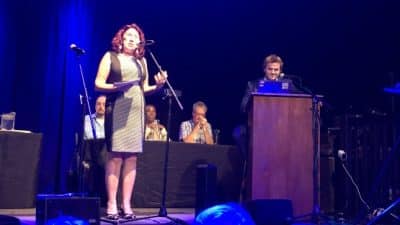 "We need a change. We need to be able to solve problems. I am that person," Beery said.
Joshua Huffman is running as a Libertarian for District 2. A graduate of Harrisonburg High School, he earned degrees from the College of William & Mary and West Virginia University. Huffman worked as the grassroots director for South Carolina for Ron Paul's presidential campaign in 2008 and was formerly a member of the Republican Party for 19 years.
"We do need free and fair elections in the state of Virginia," Huffman said of voters having choices on Election Day.
District 36 candidate Randall Wolf, a photojournalist, is opposing Del. Ellen Campbell, a Republican. He prioritizes personal freedom and rights, women's healthcare, teacher rights, student access to information and free community college "to build the workforce of the future."
He also supports affordable housing, confronting gun violence to saves, mental health care access, lower taxes for Virginians who earn less than $75,000/year and solar energy projects in the Shenandoah Valley.
Wolf said.
Adam Campbell, the father of two young children in Staunton's schools, is running for Staunton City Council. The seat currently occupied by businessman Terry Holmes, who filled in for former mayor Andrea Oakes who vacated the seat in January 2023, is up for election in November.
"We are invested in this community," Campbell said of himself and his family. He said he wants to help everyone experience Staunton the way he has been able to experience the city. He is focused on improving communication between the city and residents and increasing public participation in city government. If elected, he would make investments with the city's limited resources for the betterment of Staunton.
He will also work for collaboration with neighboring counties.
The first question posed to all candidates was whether Virginia should remain a right-to-work state.
"Right-to-work doesn't work. It gives an unfair advantage to most employers," Beery said. With some employers, the policy exploits workers.
Harris called right-to-work "a Jim Crow-era piece of policy designed to keep down workers and their families so that corporations may benefit and take everything that they can of them and their labor."
Huffman supports right-to-work. "I don't think union membership should be a condition for employment at any level."
Wolf said right-to-work should be repealed in Virginia. He added that union members make 15 percent more.
"Right-to-work's gotta go," Wolf said.
A question posed to Campbell was whether Staunton is accessible for residents with disabilities.
"There's a lot we can do to improve accessibility around Staunton," the VDOT transportation planner said. He added that 1 percent of curb ramps in the city are ADA-compliant. Audible pedestrian crosswalks and improvements for non-motorized travel are necessary.
If their voting district received $25 million to spend on public education, each candidate was asked how they would propose to spend the funding.
Wolf said he would increase teacher and staff salaries, add more counselors in schools, increase technology education, make pre-K optional and increase school security.
"It takes a lot of people to help educate our students," he said.
Huffman would spend the funding on teacher pay and recruitment and constructing new school buildings.
"If we don't have proper infrastructure, if we don't have good teachers, then how can we expect our students to succeed?" Huffman said.
Campbell said that Staunton's school need new construction and buses.
Beery would retain teachers and staff with pay.
Harris said more mental health professionals are needed in schools, as well as retaining teachers.
"We shouldn't just be focusing on metal detectors and school resource officers to meet gunmen at the door. Much of the time that assaults on schools happen, it's students, former students who feel ostracized, who aren't having their mental health care taken care of," Harris said.
More funding for teaching reading and writing is also necessary, according to Harris.
Wolf and Harris share an opinion on the top three budget priorities for Virginia: education, mental health care access and Interstate-81 improvements.
"Interstate 81 is going to take a whole lotta money to fix," Harris said.
The candidates vary on gun control. Campbell, a gun owner, supports the right to bear arms, but believes in gun safety education. Beery, also a gun owner, said gun regulations are necessary. Harris said deaths from gun violence can be limited with solutions, such as gun safety education. Huffman, a 2nd amendment supporter, supports responsible gun ownership.
Wolf said that Virginia spent $288 million last year on gun violence.
"We need to confront this on many layers," Wolf said. He supports law enforcement, protecting schools and mental health access.
If elected, Wolf said he will propose a 30 percent excise tax on gun and ammunition sales.
"We need the funding to confront this to really bring those solutions to make an impact," Wolf said.
Wolf was asked whether Democrats will ever be able to negotiate with Republicans on abortion legislation.
"I think we have to be able to talk across the aisle and find common ground in some ways. That doesn't mean we back off from where we stand," Wolf said. Women's health care and abortion are critical elements.
Huffman, Beery and Harris were asked if they are working to stop anti-choice organizations in Virginia.
Huffman is pro-life, Beery supports access to birth control and women's privacy and Harris said every woman has a right to make their own decision.
"We already settled Roe v. Wade," Harris said of Democrats and Republicans when the legislation was made national law in 1973.
Early voting in Virginia begins Friday, Sept. 22, 2023.