The Waynesboro Police Department arrested a Waynesboro woman on several charges after she crashed her vehicle when trying to flee police late Friday night.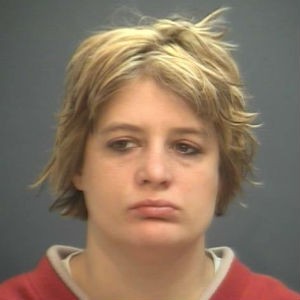 Amanda Dawn Hoke Martin, 31, faces five charges: felony eluding; driving under the influence of alcohol, unlawful refusal of a breath test and obstruction of justice, all misdemeanors; and failing to stop for a stop sign.
At approximately 11:45 p.m. Friday, an officer was responding to a domestic disturbance call when he stopped at the intersection of King Avenue and Bridge Avenue. As he attempted to turn, his cruiser was nearly struck by a 1995 Volvo sedan that failed to stop at the intersection. When the officer attempted to stop this vehicle, it continued on down Dogwood Avenue travelling at speeds around 50 MPH.
The vehicle eventually left the road in the 200 block of Dogwood Avenue and struck a utility pole and came to rest on a shrub.
As the officer was getting out of his cruiser, Martin ran from her vehicle and dove through the cruiser's front passenger window into the seat.  The officer ordered her out of the cruiser at gunpoint.  The officer was able to handcuff her but it took him and two other officers to get her secured in the prisoner compartment of the cruiser.  She kicked and cursed the officers during the struggle all the while professing her guilt.
Martin's vehicle sustained about $3,000 damage in the crash.  She is being held without bond at Middle River Regional Jail.