The Waynesboro Police Department is requesting assistance in identifying a suspect who stole an Xbox One and a game valued at approximately $560 from Walmart, 116 Lucy Lane, at 11:35 p.m. Tuesday.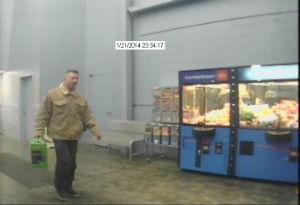 The suspect requested the merchandise from a store associate, who retrieved them from a locked display case.  The suspect then asked the associate about another electronic device.  While the associate and the suspect were at the electronics counter, a second man who was working with the first approached the associate in an apparent diversionary maneuver.  The first suspect then walked away from the counter and out the store with the Xbox One and game to a waiting vehicle driven by a third suspect.
The suspect who created the diversion is also caught on surveillance entering the vehicle before all three leave the property.  The first suspect is featured in the included image.  The second suspect is described as a black male of unknown age.  There is no race or gender description of the getaway driver.
Anyone with information is asked to call Officer Feazell with the Waynesboro Police Department at (540) 942-6675 or Central Shenandoah Crime Stoppers at 1(800)322-2017.  Information given to Crime Stoppers may be given anonymously.  Callers with information that lead to an arrest in this case are eligible for a cash reward of up to $1000.