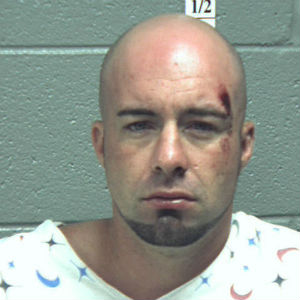 The Waynesboro Police Department has arrested a Nelson County man on numerous charges after a vehicle pursuit ended with the subject wrecking his vehicle in Nelson County.
The arrest also netted a large amount of methamphetamine, cash and two firearms.  Officers charged Kenneth Michael Moore Jr., 31 years old, of Shipman, with four felonies connected with drugs and firearms after the nine-minute, five-mile pursuit.
At approximately 12:55 p.m. Monday, members of the Waynesboro Police Special Operations Division attempted to conduct a traffic stop in the 200 block of North Commerce Avenue of Moore, who was the subject of a lengthy narcotics investigation into a methamphetamine ring among Nelson County and the cities of Waynesboro and Charlottesville.
Moore was believed to be armed and carrying drugs at the time of the traffic stop. After initially stopping for police, Moore was observed furiously digging into a bag in his vehicle.  He then fled the scene in his 1997 Toyota 4-Runner when police immediately approached his vehicle on foot.
Waynesboro Police Sgt. Chris Hilliard initiated a pursuit and followed Moore across Afton Mountain on Route 250 East.  His speed was estimated at nearly 80 mph.  Moore then turned right onto old Route 151/6 and started down Afton Mountain. Moments later, Moore lost control of his vehicle in a sharp turn and ran off the road on a steep embankment along a gravel driveway entrance to a residence. His vehicle flipped numerous times and he was ejected through the sunroof during the accident.
Hilliard immediately tried to gain control of Moore as he attempted to flee the scene. Moore, who later admitted to being under the influence of methamphetamine heavily, was unaffected by an initial application of the Taser and was able to break the wires and get free.
In socked feet, because his shoes had come off during the wreck, Moore ran through rough terrain and back onto Route 6.  He was eventually apprehended by Hilliard in the middle of Route 6 approximately 200 yards from the wreck after a foot pursuit and being Tasered a second time.
Moore was evaluated by Wintergreen Fire and Rescue at the scene but was uncooperative.  He was later transported to Augusta Medical Center and treated for back and neck pain and broken right little finger.
Moore's vehicle was completely destroyed in the crash.
Inside Moore's vehicle, Waynesboro Police recovered a black bag containing a loaded Mac-10 .45 caliber semi-auto subgun with a fully loaded 30 round magazine, a loaded Cobra .380 automatic pistol (later determined to be stolen from Staunton, VA), five ounces of crystal methamphetamine, $3,381 in US currency and digital scales.
Moore is facing the following charges:
·         Felony Eluding
·         Possession of Methamphetamine with the Intent to Distribute
·         Felony Possession of a Firearm while in Possession of a Controlled Substance
·         Knowingly Possess a Stolen Firearm
In total, these charges could carry up to a minimum/mandatory sentence of 10 years in prison, up to a maximum of 40 years.
Waynesboro Police, with assistance from the Virginia State Police, executed a follow on search warrant at Moore's residence in Nelson County at 114 Evening Star Lane, Shipman, VA. As a result, another small quantity of methamphetamine was recovered, along with a .22 revolver. Virginia State Police will charge Moore as a result of this search warrant as well.
Moore is being held without bond at Middle River Regional Jail.
Capt. Mike Martin, the Special Ops Division in the Waynesboro Police Department, offered praise for the efforts of Sgt. Hilliard in apprehending Moore.
"I am exceedingly proud of the professionalism, dedication and absolute courage displayed by Sgt. Chris Hilliard in this incident," Martin said. "Violent felony pursuits are very difficult situations for police, but his street experience and dogged determination set the conditions for us to apprehend a very dangerous criminal without injury to innocent citizens
"I hope the message to the public is very clear. The Waynesboro Police Department may be undermanned, but the few remaining officers are extremely capable and committed to protecting our way of life in our city and Commonwealth.  Criminals can expect to be relentlessly hunted down and brought to justice," Martin said.