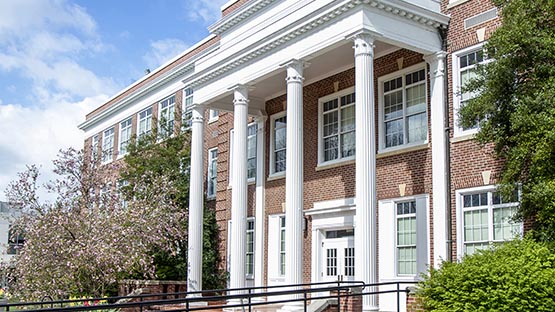 The fall semester at Bridgewater College began one week ago with nearly 1,450 students calling BC home for the 2023-24 academic year.
Current students, faculty, staff and alumni helped first-year students move in on Aug. 17. Volunteers also handed out water and helped families navigate the campus.
"At BC, our priority, particularly on days like these, is in fostering strong connections and making sure our newest Eagles know they belong here," said Dr. Leslie Frere, vice president for student life and dean of students. "We have so many amazing alumni, employees and student leaders to help with the physical move-in process, along with the amazing experiences for all our first-year students that lead up to the start of classes.
"This really is one of the best times of the year for us, letting us showcase our care for our community."
The college welcomed more than 500 new students which includes first-year freshmen, transfer students and graduate students. These new students are from 272 different high schools, 20 different states and 13 different countries.
The top choice of majors for the new class are business administration, health and exercise science, computer science, biology, psychology, engineering and art.
Over the last five years, the field of engineering has consistently been named among the top career objectives by admitted students to Bridgewater College.
Bridgewater College's Class of 2027
180 are student-athletes competing in the College's 23 intercollegiate teams in the NCAA Division III
35 percent identify as being from underrepresented ethnicities and races
30 percent are Pell-eligible, awarded to students with exceptional financial need
23 percent are first-generation students, meaning they are the first in their families to attend college
17 percent are part of the Flory Honors program, which requires a strong academic record of a 3.8 or higher grade point average from high school or a post-secondary institution
23 first-year students will compete in the National Association of Collegiate Esports, the Eastern College Athletic Conference and the Mid-Atlantic Esports Conference
The first cohort of the undergraduate major in engineering will graduate in 2027
Related stories
Bridgewater College lowers tuition cost by more than half for 2024-2025 academic year
Gregson, Bowring offer joint abstract painting exhibition at Bridgewater College
Bowman Hall renovation to create new learning classrooms at Bridgewater College