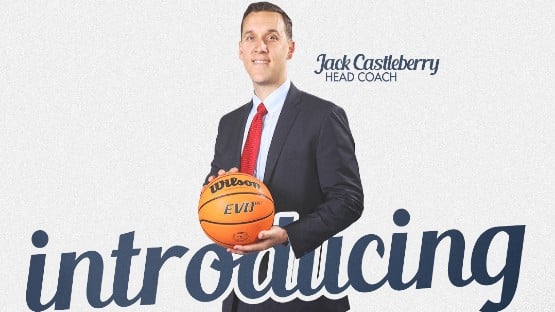 A VMI alum and former assistant coach is the new basketball coach at this year's NCAA Tournament Cinderella.
Jack Castleberry was named the head coach at Farleigh Dickinson on Wednesday.
The announcement was made by FDU Interim President Michael Avaltroni and Athletics Director Bradford Hurlbut.
"I am extremely happy to promote Jack Castleberry to be our next head coach," Hurlbut said. "I have watched him closely for the last 10 months, as if he was doing a live audition. The way Jack interacts with our players on and off the court, coupled with the respect that they have for him, made him the perfect choice to keep the FDU momentum headed in the right direction.
"We are so excited to start this next chapter of FDU Knights men's basketball with Jack as our head coach," Avaltroni said. "He was a core and integral member of this amazing and historic run and we have every confidence that he will take this amazing momentum and continue to help us to tell the story of our University through the success of our basketball program on and off the court!"
Castleberry was an assistant on the staff of Tobin Anderson, who led FDU to its historic upset, as a 16 seed, over top-seeded Purdue last week in the East Regional.
Anderson was hired by Iona to take the job there on Tuesday.
Anderson is replacing Rick Pitino, who left Iona to take the head job at St. John's.
"I couldn't be more excited to be given the opportunity to lead America's newest Cinderella as the FDU men's basketball head coach," Castleberry said. "I am beyond thankful to Tobin and Jodi for bringing me on board and allowing me to be a part of such an incredible run. I'm grateful to Dr. Avaltroni, Brad and Jason for their confidence in me to serve in this new role and continue to build a special program at FDU. Above all, I want to thank our players and look forward to continuing to support them academically, socially and athletically."
Castleberry is a 2007 VMI alum who was a two-year starter and three-year letterman, and was the team captain in his senior season, in 2006-2007.
After graduation, Castleberry served as an assistant coach at UT-Martin before joining the staff at his alma mater under former coach Duggar Baucom in 2008, staying on until 2015, when Baucom took the head job at The Citadel.
Castleberry followed Baucom to The Citadel, where he remained until 2022, leaving there when Baucom was let go by the school to take an assistant position at Farleigh Dickinson.
"The FDU administration has made another brilliant hire in Jack Castleberry," commented said Baucom. "Jack is tremendous basketball coach, a superb teacher, strategist and authentic communicator. He is more than ready for this opportunity and will build on what they have started at FDU. Jack is a tireless worker and recruiter, but most importantly he is a complete role model of what his players should aspire to be. He is a continual learner who will bring passion to this program each day."