Virginia Secretary of Agriculture and Forestry Todd Haymore today presented the Virginia Vineyards Association Grape Grower of the Year award to Jeff White, owner and winemaker of Glen Manor Vineyards in Front Royal.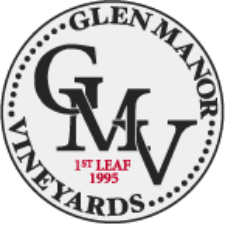 "I'm very pleased to honor one of the leaders of the Virginia wine industry," said Secretary Haymore. "Virginia's burgeoning wine industry is making a significant and growing contribution to the Commonwealth's economy, and that's because of leaders like Jeff White who are producing world-class wines. I congratulate Jeff for his work to make Virginia one of the world's emerging wine production and tourism regions."
Tom Kelly, president of the Virginia Vineyards Association, echoed Secretary Haymore's comments, adding that the association selected Mr. White for the award not only to recognize his contributions to the Virginia wine industry, but his support for the VVA as well.
"Two years ago, he won the Governor's Cup with his 2009 Hodder Hill, a Bordeaux-style red wine, and last year, he was gracious enough to volunteer his vineyard for a session at our summer technical meeting," Mr. Kelly said.  "Jeff is one of the industry leaders who is helping put Virginia wine on the map, and he is more than deserving of this honor."
Mr. White was chosen based on criteria established in 2005 with the first presentation of the award. The criteria require that the recipient be an active member of the Virginia Vineyards Association with at least seven years of experience managing or operating a commercial vineyard of at least five acres. The nominee must also be an active participant in the Virginia viticulture community with a history of service to our industry and must be well respected by his or her peers.
"Jeff met and exceeded the criteria for this award," said Mr. Kelly. "He has always gone the extra mile in promoting wine grape growing and the Virginia wine industry."
As a young boy growing up in Fairfax County, Mr. White spent summers working on his grandfather's farm, which has been in his family for 113 years now. As an adult, he eventually tired of the corporate life as a financial analyst and decided to move full time to the family farm in 1990.  The farm was originally a Christmas tree and cattle operation.  But as the Whites struggled to make a living off the farm, Mr. White's father wondered if grape production would be a viable option and began researching the possibility.
In 1993 Jeff found a job with Virginia Tech's Tony Wolf for a season at the Agriculture Research and Extension Center near Winchester. Shortly after working for Dr. Wolf, he began working with Jim Law at Linden Vineyards. He became Jim's assistant and worked at Linden for 12 years.
Mr. White's first six acres of vines were planted in 1995 and with them a new vineyard came to Virginia, Glen Manor. He planted classic Bordeaux varieties: Merlot, Cabernet Franc, Cabernet Sauvignon and Petit Verdot along with Sauvignon Blanc and Chardonnay. All of the early harvests were sold to Linden Vineyards. The Chardonnay that Mr. White originally planted was pulled out in the early 2000s and replanted to Merlot, Petit Verdot, Sauvignon Blanc and Cabernet Sauvignon.
In 2006, the Whites made the decision to start their own winery. From 2006 to 2009, the vineyards were expanded, with plantings of Petit Manseng, Merlot, Cabernet Franc and Cabernet Sauvignon bringing the total to 14.5 acres.  The new plantings are on an extremely steep portion of the property, high up the slope from the original vineyard.
Mr. White has learned his craft well and his attention to detail in his vineyard and winery has produced wines of exceptional quality. In 2012 Glen Manor Vineyards won the Virginia Governor's cup with their 2009 Hodder Hill Meritage blend. In 2013 Glen Manor's 2010 Hodder Hill was awarded a Gold medal at the Virginia Governor's Cup.
Along with his passion in the vineyard and winery, Mr. White has been a mentor and friend to many of the members of the Virginia Vineyards Association. He has given freely of his knowledge and experience in seminars to his fellow grape growers, and was one of the hosts of the VVA's summer technical meeting in 2013.
***
The Virginia Vineyards Association, incorporated in March 1983, originated in 1979 as a joint effort for information exchange and cooperation among viticulturists, wineries, and Virginia Tech. Members of the VVA include commercial growers, those who grow grapes as a hobby and others who want to learn about viticulture.  Many of Virginia's farm wineries are also members, as are several companies that provide goods and services to grape growers throughout the state. Membership is not limited to Virginia residents, but is open to all who share an interest in viticulture.