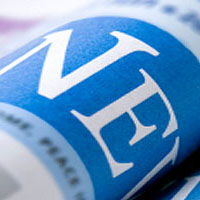 The Virginia Veterinary Medical Association (VVMA), a professional organization of veterinarians dedicated to enhancing the quality of human and animal life, has partnered with the Virginia Department of Health (VDH) to sponsor a statewide observance of Tick-Borne Diseases Awareness Week, running Sunday, Aug. 10 through Saturday, Aug. 16.
The organizations will strive to bring attention to the wide range of tick-borne diseases that affect both citizens and companion animals in the state of Virginia. The number of tick-borne diseases reported each year in Virginia is increasing significantly, and the number of cases tends to be much higher during summer months. In 2013, public health surveillance by VDH confirmed more than 1,300 reported cases of Lyme disease in Virginia, the most cases in the state known to date in a given year.
Throughout Tick-Borne Diseases Awareness Week, VVMA and VDH will offer educational opportunities to instruct families about proper prevention methods for destructive tick-borne diseases. As Lyme disease activity expands its geographical range throughout Virginia, it is crucial that citizens are aware of necessary protective precautions for their families and pets when spending time in outdoor tick-prone areas. It is essential that residents also know the consequences of other tick-borne illnesses, including Ehrlichiosis, the second-most commonly confirmed tick-borne illness in the Commonwealth area.
QUOTES:
"It is imperative that residents of Virginia are aware of the serious impact of tick-borne diseases to safeguard both human and animal health," said Dr. Jeffery Newman, DVM, VVMA President. "While Lyme disease is one of the most familiar tick-borne diseases, there are many other tick-borne illnesses present in Virginia that should warrant the attention of all state residents. We strongly encourage veterinarians to communicate the dangers of these diseases with pet owners and others in the veterinary medicine community in an effort to decrease the number of confirmed cases each year and protect human and animal health."