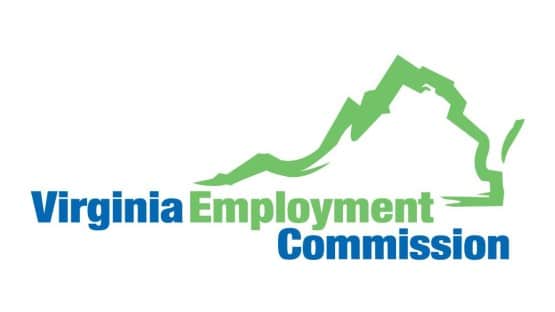 Virginia's unemployment rate increased to 3.2 percent in January 2023, but the labor participation rate also rose to 65.4 percent.
The new unemployment rate for the Commonwealth is 0.3 of a percentage point higher than January 2022.
Household survey data in January revealed that the labor force increased by 17,127 to 4,487,399 and the number of unemployed increased by more than 5,000 to 144,754.
The Commonwealth saw employment rise in eight of 11 major industry sectors, and decline in three sectors. The largest job gain was in professional and business services with an increase of 8,700 jobs to 816,500. Leisure and hospitality saw the second largest increase with more than 6,900 jobs up to 408,300. In third, was education and health services which gained 2,400 jobs and rose to 570,200 positions.
The Virginia Employment Commission estimates that companies gained 118,900 jobs in January 2023, an increase of 3 percent. The private sector recorded a gain of 109.900 jobs from January 2022 to January 2023.
Nonfarm employment data is recorded for 10 metropolitan areas in the Commonwealth. The only area to experience a decline was less than 200 jobs in the Blacksburg, Christiansburg and Radford area. Winchester experienced no significant changes from December 2022 to January 2023.
The largest increase was in Richmond with more than 9,200 jobs, then more than 7,000 jobs gained in Northern Virginia, and more than 2,500 gained in Virginia Beach, Norfolk and Newport News.
Roanoke gained more than 1,100 jobs, Lynchburg gained 700 jobs, Charlottesville  gained 400 jobs, Harrisonburg gained 200 jobs, and Staunton and Waynesboro gained 100 jobs.
All 10 areas saw increases from January 2022 to January 2023.
New American unemployment claims increased on February 27 amid high inflation and the threat of a recession. According to WalletHub, claims increased 11.1 percent from the previous week.
The personal finance website released its updated rankings in early March on States Where Unemployment Claims Are Increasing the Most. Virginia is no. 14.
The report revealed that despite an increase in claims across the U.S., 18 states, including Washington, D.C., Kansas and Oklahoma, saw a decrease in claims from the same week in 2022. Twenty-one states had higher unemployment claims than in the same week prior to the COVID-19 pandemic, including Maine, Tennessee, Texas, California, Massachusetts, New Jersey and New York.
New York saw the biggest increase in unemployment claims, followed by Kentucky, Connecticut, Oregon and South Dakota.
The lowest increase in claims was seen in D.C., Rhode Island, Oklahoma, Kansas and Maryland.
Despite layoffs in the country, unemployment remains low.
"Despite recent layoffs, the number of unemployment claims has actually been dropping. That's because there are still many more jobs than unemployed people, at about two openings per jobless person, according to the [Bureau of Labor Statistics] BLS. It's important to remember that most recent layoffs have been in the tech sector," WalletHub Analyst Jill Gonzalez said. "Tech companies are more sensitive to rising interest rates because of how they're funded, so it's no surprise they're also the quickest to impose layoffs. Just because one sector is doing it, doesn't necessarily mean the rest will follow."
Gonzalez said the federal government raised interest rates by a quarter of a point, the smallest increase since March 2022.
"But inflation has not calmed down enough just yet. Unemployment will still need to rise, at least slightly, to get inflation numbers down to where the Fed wants them. We can expect unemployment to increase through the end of the year," Gonzalez said.