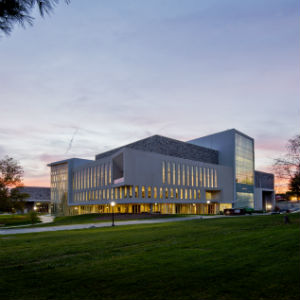 Virginia Tech has scheduled for April 25 its dedication of the Moss Arts Center, a $100 million facility that is home to the university's Center for the Arts and Institute for Creativity, Arts, and Technology. The 1 p.m. ceremony is open to the public.
"The opening of this center is a milestone in university history and brings a wonderful cultural asset to Southwest Virginia, so I hope as many people as possible will come help us celebrate," said Virginia Tech President Charles W. Steger.
Steger, who has championed the importance of the arts throughout his time as university president, and is due to step down June 1, is one of several speakers on the dedication program.
The renowned artist P. Buckley Moss, for whom the Moss Arts Center is named, in recognition of her philanthropic support of its construction, is scheduled to speak as well. The program also includes remarks from Gene Fife and William C. "Jack" Davis, whose donations also helped make the facility possible, and Ruth Waalkes, executive director of the Center for the Arts (https://artscenter.vt.edu/Online/), who also is the university's associate provost for the arts.
The main portion of the program will take place in the center's 1,260-seat Anne and Ellen Fife Theatre, which is within the Street and Davis Performance Hall portion of the Moss Arts Center. Following the ceremony, the facility will remain open, light refreshments will be served, and student musicians will be featured in the lobby.
Free parking will be available in the garage at the North End Center (http://www.vt.edu/about/buildings/north-end.html), on Turner Street. The garage is a short walk from the Moss Arts Center's Turner Street entrance. Attendees may also enter the center from its entrance off the Alumni Mall.
Launched in 2005 as an arts initiative, Virginia Tech Arts encompasses efforts university-wide to expand creative practice and support interdisciplinary learning, engagement, and discovery through the arts. The cornerstone project of Virginia Tech Arts is the Moss Arts Center, which houses the Center for the Arts at Virginia Tech (http://www.artscenter.vt.edu/) professional presenting program; the university-level Institute for Creativity, Arts, and Technology; and television and lab spaces for the Department of Communication.