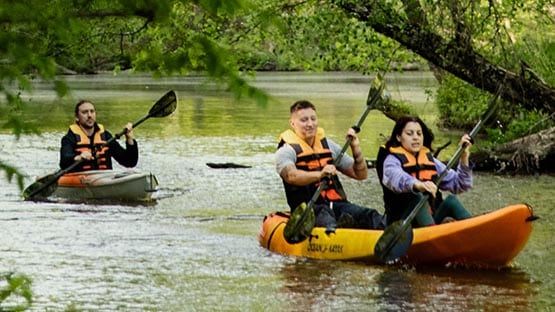 Visitors to Virginia State Parks may take advantage of a new self-paced program that connects people to the beautiful landscapes of Virginia via the park's steams, lakes, rivers and bays and rewards them for their time on the water.
Thirty one parks are now offering Wandering Waters Paddle Quest, where visitors may explore the water through a mixture of ranger-guided programs and self-led adventures.
"Virginia State Parks is proud to provide another great avenue for visitors to experience the rich diversity of the state parks system," said Melissa Baker, State Parks Director. "From rivers, to lakes, to the Chesapeake Bay, Virginians can experience a wide range of paddle experiences at Virginia State Parks."
Visitors can use park rental equipment or personal gear, including canoes, kayaks, standup paddle boards or paddle boats.
Sammy Zambon, a visitor experience specialist, spearheaded the Paddle Quest initiative. He's been a canoe and kayak guide with the park system for more than 20 years.
"I hope Paddle Quest allows people to see our parks from a new perspective. Things look and feel different from the water," said Zambon. "There is a connection between water, boat, paddle and paddler that is very soothing."
To earn rewards
Visitors must create an account on the State Park Adventures system
Visitors must log each paddle
Prizes are given in increments and include a sticker, patch, mesh gear bag and cellphone dry bag
Those who complete the challenge by paddling at all 31 parks also receive a Virginia State Parks certificate
More information
Visitors looking for a challenge off the water can participate in Trail Quest, another self-paced program that offers rewards just for visiting a park.
For more information about Trail Quest or Paddle Quest, go to virginiastateparks.gov/contest.