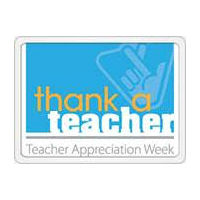 The Virginia Lottery is expanding its Thank a Teacher campaign by adding an art contest for K-12 students enrolled in Virginia's public schools. Launching on January 2, 2018, the Thank a Teacher Art Contest is looking for student artists to design the thank-you notes that will be distributed to thousands of teachers during National Teacher Appreciation Week, May 7-11.
Open from January 2 – February 2, 2018, the Virginia Lottery will accept submissions online from K-12 public school students, with permission from a guardian. Winners will be selected from three levels: elementary school, middle school and high school. The winners will each receive a $150 gift card, win $1,000 for their school's art department, have the opportunity to attend the Thank a Teacher campaign kickoff event in the Spring, and have their original artwork featured on thousands of 2018 thank-you notes distributed across the Commonwealth.
"We are excited to expand our Thank a Teacher program and involve students in a new way to help say 'thanks' to Virginia's deserving teachers," said Virginia Lottery's Executive Director Paula Otto. "We are looking forward to adding a more personal touch to the campaign, and celebrating our creative students and the art programs that shape them."
Thank a Teacher is a statewide campaign organized by the Virginia Lottery in partnership with the Virginia PTA and Virginia Tourism Corporation. Each year, these partners encourage students, parents and the general public to send thank-you notes to Virginia's public school teachers during National Teacher Appreciation Week. In its first two years, Virginians distributed more than 70,000 thank-you notes as part of the Thank a Teacher campaign. Through a random drawing, a few teachers were even awarded some cool prizes, including Virginia-themed vacations.
Entries for the art contest will be judged by a blue-ribbon panel of various members of the arts community in Virginia, and winning designs will be revealed in March. For more information about the Thank a Teacher Art Contest eligibility requirements, design criteria, prize structure and submission guidelines, visit www.ThankaTeacherVA.com.