Virginia led by as many as 22 points, then held off a late Florida State rally, to win its ACC opener, 62-50, on Saturday.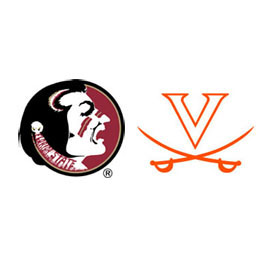 The Cavs (10-4, 1-0 ACC) only got two minutes out of leading scorer Joe Harris, who left after suffering a possible concussion early in the first half. UVa. also struggled mightily from the foul line, making just 18 of its 33 attempts from the charity stripe.
But it was defense that was the difference. FSU (9-4, 0-1 ACC) trailed 30-17 at the half after shooting 6-for-20 from the field, and the Seminoles shot just 30.8 percent (16-for-52) for the game.
Virginia led 45-23 on a Darion Atkins dunk with 11:09 to go, but Florida State went on a 14-3 run to cut the lead to 11 at 48-37 on a pair of free throws by Boris Bojanovsky with 6:09 to go, and got as close as seven at 53-46 on a three-pointer by Okaro White with 2:55 to go.
The 'Hoos went just 9-of-16 from the foul line in the final 2:32 to keep the game within hailing distance, but Florida State couldn't get closer because it was able to go just 1-for-9 from the field in the same stretch.
Justin Anderson scored 16 points off the bench to lead Virginia. London Perrantes had 14 points, Malcolm Brogdon had 11, and Akil Mitchell had 11 points and 12 rebounds.
Virginia shot 32.8 percent from the floor (19-of-58) and outrebounded FSU 42-36.
White was the only FSU player in double figures, with 15 points.
UVa. returns to Charlottesville for its ACC home opener on Wednesday at 7 p.m. against Wake Forest (10-3, 0-0 ACC).
Team Notes
• Virginia ended a 17-game losing streak in the state of Florida, recording its first win in in the state since a 69-66 decision over Florida State on Feb. 17, 2001
• The Cavaliers ended a 10-game losing streak at Florida State, recording their first win over FSU in Tallahassee since a 69-66 decision on Feb. 17, 2001
• Virginia is 5-0 in season openers under head coach Tony Bennett (6 consecutive overall)
• Virginia is 19-22 all-time vs. Florida State
• Virginia recorded its first true road win of the season and had a season-low six turnovers
Player Notes
• London Perrantes had a career-high 14 points
• Akil Mitchell had his first double-double of the season (14th career) with 11 points and a season-high 13 rebounds
• Justin Anderson led UVa in scoring for the fourth straight game with 16 points
• Joe Harris left the game with an injury at the 17:37 mark of the first half and didn't return