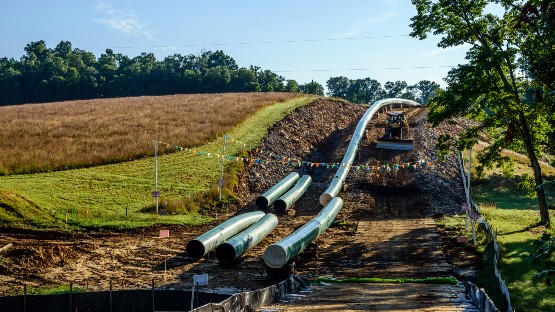 Virginia Democrats in the U.S. House are leading an effort to remove a provision in the proposed debt-ceiling compromise that would give the green light to the controversial Mountain Valley Pipeline.
Fourth District Congresswoman Jennifer McClellan is leading the effort, which has been signed onto by Reps. Don Beyer (D-VA-08), Gerry Connolly (D-VA-11), Robert C. "Bobby" Scott (D-VA-03), Abigail Spanberger (D-VA-07) and Jennifer Wexton (D-VA-10), in submitting an amendment to the House Rules Committee to strip the Mountain Valley Pipeline permitting provision from the Fiscal Responsibility Act of 2023.
"We are incredibly disappointed the Mountain Valley Pipeline was included in the bipartisan budget agreement," the lawmakers said in a joint statement. "Permitting for the Mountain Valley Pipeline has nothing to do with our nation's spending and should not be included in the budget agreement. This provision is a free pass for the pipeline and sidesteps our nation's environmental laws and judicial review processes."
The effort pits the Virginia Democrats in a battle with West Virginia Democratic Sen. Joe Manchin, who has persuaded the Biden administration to give its backing to the proposed pipeline, which would span 303 miles from northwestern West Virginia to southern Virginia.
Manchin, in a statement, said he was pleased to see House Speaker Kevin McCarthy include the project in the debt-ceiling deal.
"I am proud to have fought for this critical project and to have secured the bipartisan support necessary to get it across the finish line," Manchin said.
Critics of the MVP project note that since construction began, the pipeline has accumulated more than 450 documented water quality-related violations.
"Any deal that attempts to expedite the fracked gas Mountain Valley Pipeline, that rolls back bedrock environmental protections, and makes life harder for workers and families already struggling is a bad deal for the country," Sierra Club Executive Director Ben Jealous said in a statement.
The Virginia Democratic delegation has introduced an amendment to the debt-ceiling legislation that would remove the Mountain Valley Pipeline provision from the bill.
"We have serious concerns regarding the adverse climate and environmental justice impacts this project will have on vulnerable communities in our Commonwealth. Greenlighting the Mountain Valley Pipeline undermines our efforts to accelerate the deployment of clean-energy technologies and curb harmful greenhouse gas emissions," the Virginia lawmakers said in their statement. "This project would disproportionately impact the most vulnerable among us, including low-income, elderly, and tribal and Indigenous communities throughout Virginia. We urge the House Rules Committee to review this amendment quickly and bring it to the House floor for a vote."
U.S. Sen. Tim Kaine (D-VA) will introduce an identical amendment in the U.S. Senate.