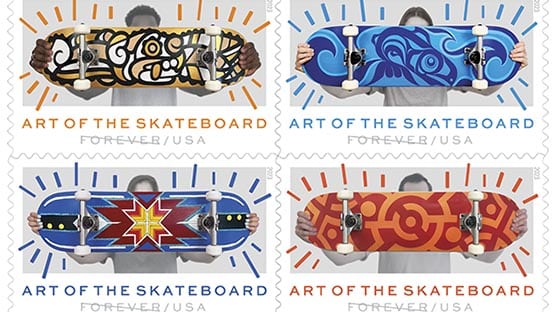 The United States Postal Service is rolling out a new stamp on March 24 – and one of the artists is from Virginia.
William "Core222" James Taylor Jr. is one of four artists whose work is featured on the new USPS Art of the Skateboard Forever stamps. The self-taught artist from Norfolk created an energetic red and orange graphic abstraction.
The three other artists are Federico "MasPaz" Frum, Di'Orr Greenwood and Crystal Worl.
Art director Antonio Alcalá designed the stamp issuance, using photographs of skateboards created for these stamps.
The stamps showcase skateboarding's excitement and reflect the diversity and cultural influence of the sport. Skateboarding is now central to a wider scene – with associated youthful attitude, music, fashion, products, events and competitions, said Jonathan Castillo, a public relations representative for USPS.
A dedication ceremony will be held in Phoenix, Ariz.
The official hashtag for the stamps is #ArtoftheSkateboardStamps.