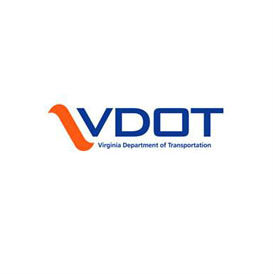 In summer 2017 a geological analysis of the formation known as Natural Bridge began as part of VDOT's work with the Virginia Department of Conservation and Recreation at Natural Bridge State Park in Rockbridge County. This study will use data collected from various devices.
As 2018 begins, the data is under analysis and a preliminary report will be issued in early 2018. VDOT has contracted testing services through an agreement between the Virginia Transportation Research Council in Charlottesville and Radford University. The testing is being led by Dr. Chester (Skip) Watts of the Environmental and Engineering Geosciences Program at the Department of Geology at Radford University.
VDOT and Dr. Watts have hosted several media events to showcase the types of devices used in the data collection and explain how the information will be used. The last of these demonstrations was on January 23, 2018. Media were shown demonstrations of Unmanned Aerial System Surveys and crews rappelling off the side of Natural Bridge to install vibration sensor equipment.
Since the summer of 2017 and into early 2018 the following testing was done:
Ground Penetrating Radar (GPR) – provides two-dimensional (2-D) imaging of existing roadway layers.
Terrestrial Light Detection and Ranging (LiDAR) – provides a three dimensional representation of the geological formation's surface features.
Unmanned Aerial System Surveys – provides visual surface photographs and enhances surface mapping,
Electrical Resistivity – measures resistivity of the material at various depths, which is an indication of the material type (rock, sand, air) and water content. These data provide a 2-D image of the formation subsurface for use in later analyses
Seismic Reflection or Refraction – helps measure the density of rock and how sensitive the rock is to vibration.
Vibration monitoring, geophones, or other monitoring tools – measures ground movement, such as vibration from an external source.
VDOT and DCR are committed to the preservation of Natural Bridge for current and future generations.  DCR is beginning its master planning process for Natural Bridge State Park. Route 11, which is maintained by VDOT, sits on top of Natural Bridge but the formation is not inspected by VDOT.
Dr. Watts specializes in engineering geology and is a Certified Professional Geologist in the Commonwealth of Virginia. Dr. Watts is the past Dalton Distinguished Professor of Geology at Radford University and now heads the Geohazards Research Center.
The preliminary and final reports will be reviewed by an advisory board whose members are independent of DCR and VDOT.
For more information on VDOT's work with DCR for Natural Bridge please visit VDOT's Staunton District Projects and Study page and look under studies. Here is a link: www.virginiadot.org/projects/staunton/rockbridge_county_8211_route_11_natural_bridge_state_park.asp
The testing does not affect visitors or exhibits at Natural Bridge State Park.
All work is weather permitting.
Traffic alerts and traveler information can be obtained by dialing 511. Traffic alerts and traveler information also are available at www.511Virginia.org.
The VDOT Customer Service Center can assist with reporting road hazards, asking transportation questions, or getting information related to Virginia's roads. Call 800-FOR- ROAD (800-367-7623) or use its mobile friendly website at my.vdot.virginia.gov. Agents are available 24 hours-a-day, seven days a week.
The Staunton District Twitter feed is at @VaDOTStaunton. VDOT can be followed on Facebook, Flickr, Twitter and YouTube. RSS feeds are also available for statewide information. The VDOT Web page is located at www.VirginiaDOT.org.
The VDOT Staunton District serves Frederick, Shenandoah, Clarke, Warren, Page, Rockingham, Augusta, Highland, Rockbridge, Alleghany and Bath counties.