Local
'Wokeness' critic: 'White privilege' is used for division at University of Virginia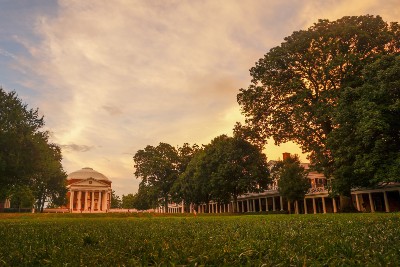 Is there a way forward for DEI and its anti-"Wokeness" critics to be able to peacefully co-exist at the University of Virginia? I'd like to think so, but, gotta say, it's not going to be easy.
The trigger for me to follow up on this was an email back-and-forth that was initiated by Walter Smith, a Glen Allen attorney who is a member of The Jefferson Council, a rightist alum organization formed in 2021 that claims it wants to preserve free speech, promote intellectual diversity and protect the legacy of Thomas Jefferson.
Smith wrote me to respond to "UVA has been overrun by 'Wokeness,' according to DEI critic appointed to Board of Visitors," my article from earlier this week on the appointment of Bert Ellis to the UVA Board of Visitors by Gov. Glenn Youngkin.
The move there from Youngkin is a direct target on the back of UVA President Jim Ryan put there to slow his push for diversity, equity and inclusion on Grounds, "outrageous changes," to Ellis, in a blog post in December, on "the path to Wokeness that has overtaken our entire University."
UVA, according to Ellis, is "overrun with courses that exist for no other purpose but to make a big deal about race and gender and other issues that can only create more oppressed parties trying to tear down anything and everything and everyone that helped create our University."
From my article, here is my observation on what Ellis and the Jefferson Council are getting at: "In the place of 'Wokeness,' then, it seems that we're going to roll the clock all the way back to the 'Whiteness' of the University's segregation era."
"That's just so lazy," Smith wrote, responding to my characterization. "Maybe the critics are opposed to the racialization of every decision. Maybe the critics believe the racialized focus is counterproductive and divisive. Maybe the critics want Martin Luther King's judge by the content of character, not the color of skin. Maybe the critics believe that these policies actually are discrimination based on race.
"I would suggest that instead of assuming the worst about people with whom you disagree, you should perhaps try to understand what they are saying before you cast your aspersions. A 'woke' pejorative with respect to UVA encompasses much more than race," Smith wrote to me.
For context, I'm decently qualified to understand well how people who feel themselves to be in the minority of thought struggle against the mainstream, being at the same time an unabashed progressive and a native and lifelong resident of the Greater Augusta County area, which is 80 percent Republican.
Being both, I've had to learn to try to understand the perspectives of what counts as the conventional wisdom of the majority, while trying at the same time to convey to others why I see the world the way I do.
With that background, I'd like to think that I can play a role in bridging the divide between the advocates for DEI and the critics at The Jefferson Council.
As you'll soon see, my first stab at this came up woefully short of that mark.
The pillars of The Jefferson Council
Smith laid out these points as the foundation of The Jefferson Council's approach for me in his email:
Promote an academic environment based on open dialogue throughout the University.
Preserve the Jefferson Legacy.
Preserve the appearance of the Lawn as a UNESCO World Heritage site, and
Support and reinvigorate the Honor System.
"Are those based on race? Is honor 'white?'" Smith wrote.
"Is it 'white supremacy' to try to defend Jefferson as a giant in world history?
"Is it hypocritical to be paid by a University founded by Jefferson and at the same time work to denigrate him (and, no, we are not saying not to tell 'the whole story;' we would like to see the whole story, without lies)."
"So, food for thought … I think the only racists are the people who are making judgments based on the color of skin, and that is not The Jefferson Council, and maybe you should try to understand all of the grievances as opposed to unfairly stigmatize."
Call, and response
I put some thought into my response to Smith. Here it is:
"'The only racists are the people who are making judgments based on the color of skin.' I'd counsel you to give some thought to the concept of 'white privilege,' the notion that white people (like us) have social and economic advantages over non-whites by virtue of having been born white.
"A good example of white privilege is the use of the words of Martin Luther King Jr. to justify a rollback of DEI policies.
"I'd like to think that there could be some room for the two sides on this debate to find middle ground. Jefferson, for example, is very much a 'giant' in world history; his wealth was also based on his holdings in slaves. I don't see how the University can rightly distance itself from who founded UVA, but neither can we move forward if we don't recognize who he was as a full man, and while we embrace the contributions he made in so many ways, also make clear our understanding of his flaws.
"Similarly, I can see room for the two sides to better promote open dialogue, on the importance of the promotion of diversity, equity and inclusion in helping society move forward, and the importance of giving space to conservative political viewpoints.
"That second one is more difficult, because my sense of what the Jefferson Council feels it is prevented from being able to say is that DEI is somehow a racist point of view, as you've made clear with two invocations of the words of MLK as somehow supporting your group's point of view.
"I'm not a fan of suppression of alternative points of view. I grew up in and continue to live in the Shenandoah Valley, an 80 percent Republican area, and I am an unabashed progressive; I know very well what it is like to be a minority in philosophical perspective.
"I'd like to think that we can all learn from each other. But for that to happen, we have to be willing to listen to the other side as well as tout our own.
"I'd like to see some indication that the Jefferson Council has even an inkling of the ideas behind DEI. I don't yet have that sense."
My mindset here
I know very well how pollyannish my thinking here is. "We can all learn from each other." That doesn't happen anymore; I don't know that people ever historically have actually wanted to learn from each other.
Perhaps I picked this view of how the world is supposed to work, that we all should at least try to learn what other people are thinking, in my time on Grounds.
Wild thought, that one, you know. That you can learn just as much, maybe more, from the people you meet as you can from books and lectures.
I've had a lifetime of being confronted with viewpoints counter to my own just from where I live and what I do for a living.
I can always learn more. I believe that challenging yourself, being open to learning something new, that flexibility and openness brings strength.
I want to learn more about what The Jefferson Council has to offer on this debate.
You'll see below, I got more than I expected.
'It is used for division'
"That's a start. I think we have a far better grasp than you imagine," Smith wrote me back.
"I have given thought to the concept of 'white privilege.' I think it is used for division. Many of the right-thinking people you live with (What happened to you? That's a joke…) could hardly be said to possess white privilege.
"There are quite privileged blacks who now profess to be victims. Why do we have white impostors or 'Native American' (and Canadian) impostors. There is advantage to claiming victimhood status. So, the friction is equal opportunity vs. equality of outcome. All people are individuals. All people have free will. But choices and behavior matter. I can look at my brothers and my children – all essentially start at the same point, and there is a wide, wide, wide dispersion of outcomes. And making judgment on outcomes, solely on the basis of color, or sex, or political orientation (a form of discrimination prohibited under UVA's non-discrimination statement) is not constructive – in fact is harmful. And that is just my take – believe it or not, different people on TJC have different beliefs and express them.
"Anyway, I appreciate your reply. Free speech and education, not indoctrination, are color-blind aspirations. But don't just dismiss the group as wanting to go back to an all-white, all-male, coat-and tie-wearing U. You're obviously smarter than that."
That's how this one ends
There wasn't much left for me to say in response to that.
"Give more thought to the concept of white privilege. A lot more thought. You're not close to even a basic understanding yet," I wrote back to Smith.
"I laid out a rough outline for how there could be a path forward for the two sides in this debate to peacefully co-exist. Your response is an indication of how my hope there is nothing more than a pipe dream."
From there, the two of us exchanged pleasantries. Neither had convinced the other of, really, anything.
I don't know that I'm hoping to convince Walter Smith, or other folks at The Jefferson Council.
I would wish to see some inkling of indication that they can give some thought to the value of the DEI initiatives that have been undertaken at the University.
And I do concede that I see some value to making sure that DEI also be inclusive of diversity of thought. The idea that conservative students apparently feel that their thoughts are being suppressed in academic settings and among the general population is troubling to me.
I learned somewhere, and I swear, it was in my time on Grounds, that we should try to find ways to reconcile opposing viewpoints.
All we're doing now is talking past each other. We can do better.