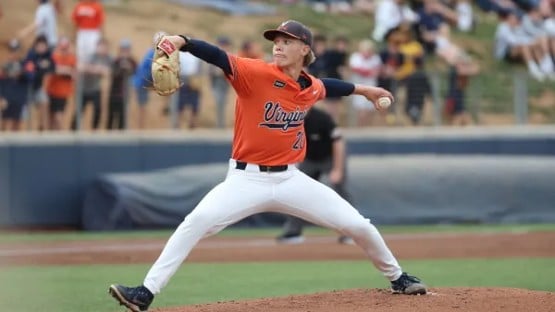 Virginia didn't recruit Connelly Early out of high school, where he was an all-state pitcher at Midlothian just outside of Richmond, and even as he was racking up wins after landing at UVA as a transfer this season, it took him forever to crack the weekend rotation.
His approach to working his way up the baseball ladder: "one pitch at a time; I just want to get the job done," Early told reporters after the 8-3 win over East Carolina in the Charlottesville Regional clincher on Sunday.
Early, after going under the radar on the prep recruiting trail, ended up at Army, where he pitched his way into being named the 2022 Patriot League Pitcher of the Year.
The left-hander put his name into the transfer portal last summer after Army made a coaching change, replacing Jim Foster, who left West Point to take the head job at Northwestern, with Chris Tracz, who led the Black Knights to a 2023 NCAA Tournament bid.
Early's numbers at Army – he was 7-4 with a 3.26 ERA in 2022, with 88 strikeouts in 85.2 innings – finally got the attention of UVA coach Brian O'Connor.
"We watched Connolly pitch against Southern Miss last year, and those things, you know, really make you be all in," said O'Connor, referencing Early's impressive start in the 2022 NCAA Tournament against Southern Miss, in which he gave up two runs, one earned, in six innings, striking out eight, walking four and surrendering seven hits in a heartbreaking 2-0 loss.
Early, O'Connor said, was "a great fit for us," so the issue in terms of recruiting him to Virginia was a matter of "figuring out if it was right for him."
It's easy to say now that things worked out well for both sides.
Early, in the 8-3 win over ECU, gave up two runs on seven hits in six and a third innings, striking out 10 and walking one.
The win, which gave Early an 11-2 mark in 2023, served as a nice bounceback effort after he'd gotten touched up a bit in Virginia's 10-2 loss to North Carolina in the ACC Tournament.
Early was charged with four runs, three earned, in four innings in that loss.
"You're gonna go through ups and downs the whole entire season, but you know, you have to stick with what you do best," Early told reporters after the win over ECU on Sunday. "You've got to find a way to put yourself in that best position one time every week if you're a starter. So, you know, working every day with the other starters, the other relief pitchers, just chatting between, like, teammate to teammate, helps, like, rebuild your confidence after a tough outing, and, you know, it helps you realize, like, you've got to trust your stuff, you've got to be able to go out there and just give it all out for, you know, all the guys and, you know, this whole entire program."
The 11-2 win-loss mark gets your attention right away, but his inside numbers are even more solid – his 3.35 ERA, .241 opponent batting average, 90 strikeouts and 1.18 WHIP all lead UVA's starting pitchers.
What's more impressive is that Early had to pitch his way into the weekend rotation, getting his first weekend start in a May 13 win over Louisville.
O'Connor talked with reporters about Early's progress since arriving on Grounds after the win on Sunday.
"When he decided to decommission from West Point, you know, we knew that one of the big jumps that he could make was with his physical strength and his weight," O'Connor said. "You know, what those men go through there, we're all glad they go through what they go through, to be prepared to defend our country, but, you know, we felt like him getting there on the right nutrition plan with our people, and then getting with our strength coach, could really make a difference for him.
"It's really helped his velo make a little bit of a jump with his fastball, and I think made everything a little bit crisper and has made a big difference for him," O'Connor said.