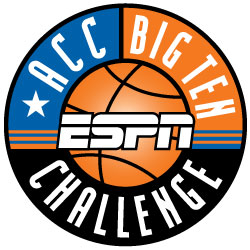 The 16th annual ACC/Big Ten Challenge Presented by DICK'S Sporting Goods, played over three days from December 1-3, will be highlighted by an expanded format of 14 games – two more than previous Challenges.
ESPN, ESPN2 and ESPNU will combine to televise all 14 games of the three-day event matching top college basketball programs playing for conference supremacy and the Commissioners Cup. All 14 games will also be available via WatchESPN.
Three of the games will feature a showdown between teams ranked in an ESPN.com early preseason top 25 poll: No. 2 Duke at No. 4 Wisconsin, No. 25 Iowa at No. 6 North Carolina and No. 21 Syracuse at No. 24 Michigan. Additional teams in the Challenge that made the poll include No. 7 Virginia, No. 8 Louisville and No. 18 Michigan State.
Following last year's 6-6 tie, the ACC now holds a 10-3-1 advantage in Challenge play. In the event of a tie, the Commissioners Cup remains with the conference that won the previous year, which was the Big Ten in 2011. The ACC won the first 10 Challenges (1999-2008) while the Big Ten won the next three (2009-2011).
ACC teams hold an 88-67 lead in Challenge games played to date
2014 ACC/Big Ten Challenge schedule (times and networks will be announced in August):
Monday, December 1
Nebraska at Florida State
Rutgers at Clemson
Tuesday, December 2
No. 21 Syracuse at No. 24 Michigan
ohio state at No. 8 Louisville
Pittsburgh at Indiana
NC State at Purdue
Illinois at Miami
Minnesota at Wake Forest
Wednesday, December 3
No. 2 Duke at No. 4 Wisconsin
No. 18 Michigan State at Notre Dame
No. 25 Iowa at No. 6 North Carolina
No. 7 Virginia at Maryland
Georgia Tech at Northwestern
Virginia Tech at Penn State
Rankings denote ESPN early pre-season poll