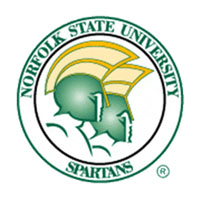 Work was recently completed on the installation of an athletic turf home plate collar at Norfolk State's Marty L. Miller Baseball Field, the latest in a recent series of improvements to the Spartans' home facility.
The horseshoe-shaped premium athletic field turf collar, which was installed over a three-day span, will prevent the wear and tear that was common on the old grass area around home plate. The collar is green with gold "Spartans" lettering outlined in white with the Spartan head logo on either side of the nickname. Fourteen cubic yards of cement was laid underneath the 700-pound collar, which is roughly two inches thick and includes a half-inch thick shock pad underneath the turf itself.
The turf collar is the latest in a several-phase improvement plan for Marty L. Miller Field. Last year, the entire infield grass area was removed and re-sodded. This fall and winter, the scoreboard will be remodeled to include new paneling and a new design.
"The NSU baseball program would like to give a special thanks to all of those who have made contributions to this ongoing improvement plan," NSU head coach Claudell Clark said.