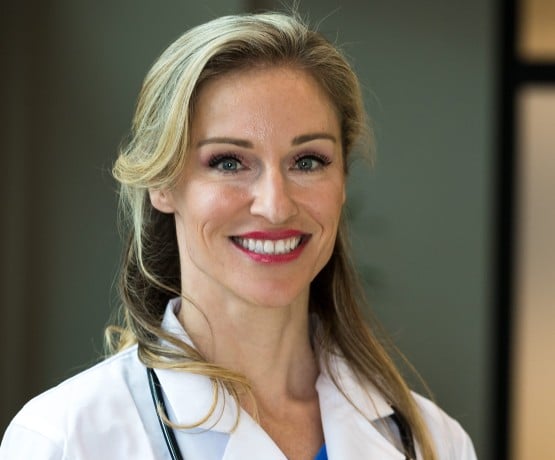 Tim Kaine could not run fast enough from the question about Susanna Gibson, the Virginia House candidate whose sex tapes were outed this week by the Washington Post, at the behest of a Republican Party operative.
"I was very surprised at this story. I was at a campaign event in Henrico with many local and state candidates, school board, county supervisor, constitutional officers, House and Senate members on Saturday, and Ms. Gibson was one of the candidates. As far as I know, it's the first time I met her, and it's a little bit unusual, because she's one of the few General Assembly candidates who's never asked me for an endorsement," Kaine said, fumbling for words, in response to a question from a reporter on a conference call on Wednesday.
"I don't really know her that well, but I was very, very, very surprised at the story, and it really took me aback," Kaine said. "I heard from somebody, this event was Saturday, midday, I heard from somebody very late Saturday or early Sunday, that a negative story might be coming. But when I read it yesterday, I mean, it was very surprising."
Gibson is the Democratic Party nominee in the 57th House District, one of the seven House seats listed as tossups by the Virginia Public Access Project.
Video content featuring Gibson, 40, a nurse practitioner and married mother of two, from a website calling itself Chaturbate ended up on a non-password-protected site that the GOP operative brought to the attention of the Post, which in its reporting noted that it does not normally name the victims of alleged sex crimes, because obviously, even as Gibson, and her attorney, are alleging just that, that she has been made a victim of a crime.
"We are working closely with state and federal law enforcement, said Daniel P. Watkins, Gibson's attorney, telling the Post that the dissemination of the videos from the private website without Gibson's consent is a violation of the state's revenge porn law, which makes it a Class 1 misdemeanor to "maliciously" distribute nude or sexual images of another person with "intent to coerce, harass, or intimidate."
It's remarkable that the Post allowed itself to be used by a Republican operative to bring attention to the videos; among other things, you have to wonder if the operative was behind the effort to post the content to the non-password-protected site, and what role the campaign of Gibson's Republican opponent, David Owen, might have played in the story.
All we get from the Post on that is that the operative "denied a connection to Ms. Gibson's opponent, David Owen, or to other political groups in Virginia," which, whew, the operative denied everything, so that's a big bit of relief there.
Kaine's shameful effort to distance himself from Gibson stands in stark contrast to the response of Democratic State Sen. Louise Lucas: "They're looking for anything they can find on any candidate that they think might sway the voters," Lucas said. In a statement "It all has to do with who is going to get control of the Senate and who is going to get control of the House. It's all about control."
Democratic women's advocacy group Emily's List also weighed in on Gibson's side.
"Susanna originally ran for office because of the overturning of Roe, and she's been very outspoken on standing up for reproductive rights. People are coming out in support of Susanna because they know that Republicans are coming after her because she was standing up for them," Emily's List spokesperson Lauren Chou.
One other women's group got on the record in support of Gibson: the National Organization for Women.
"In light of the anonymous, personal attack on Virginia's Susanna Gibson this week, it is important that we call out these tactics for what they are: another attempt to silence a strong woman who threatens the balance of power," said Lisa Sales, the president of Virginia NOW. "It is clear to us she is being attacked because she is an abortion rights advocate who is gaining momentum in an election that is increasingly about maintaining Virginia as the last Southern state with access to legal abortion and which offers safe harbor for girls, women and pregnant people facing crisis pregnancies.
"Virginia NOW applauds Gibson's refusal to be intimidated by those who will stop at nothing to maintain control over women," Sales said.
And then there's Kaine, who doesn't want to be anywhere near Susanna Gibson.
"You know, legit, she hasn't even asked me for an endorsement, and so, or any advice about this, and the, you know, the stories, as far as I have read the stories, I've read her comment has been, don't invade my privacy," Kaine said, by way of tossing a word salad. "I don't even really feel like, I know some facts as they're reported, but I don't know all of them. But again, it was a very surprising thing to read about it, and again, I don't really have much sense of it. Because, as far as I know, it was first time we'd met, and I hadn't even been asked to endorse her."