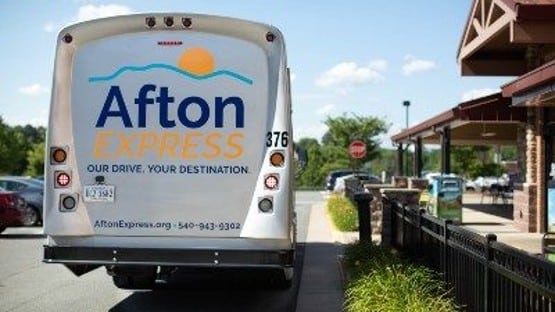 After more than 12,000 trips between Staunton, Augusta and Waynesboro and the City of Charlottesville and Albemarle County since September 2021, the Afton Express is a success story.
The Central Shenandoah Planning District Commission (CSPDC) declared the Afton Express "a resounding success" that "has proven to be a safe, convenient and affordable way for people to get to work and to travel between the two regions."
The first Afton Express annual report was released in December with highlights of important moments, performance data and rider impressions from the first 16-months of the operation.
Afton Express is also a milestone: the transition from a new service operating as a demonstration project to a fully-fledged permanent route of the BRITE Bus transit system.
"The annual report helps us document and demonstrate the success of the service through data like ridership and rider feedback," CSPDC Regional Planner Paula Melester said. "It's important that we can show our funding partners at the state and local level that this is a viable service that should continue to receive support."
Melester said the Afton Express will be considered part of the rural portion of funding the CSPDC receives to operate all BRITE Bus routes in the region. Federal funds are matched by the state and local funding partners; who have all been instrumental in taking the Afton Express from an idea to an operation.
"The Afton Express has seen steady growth in its first full year of service and with expanding service being brought online this year there is an opportunity to reach more riders" former City of Waynesboro Mayor and chairman of the Staunton-Augusta-Waynesboro Metropolitan Planning Organization (SAWMPO) Bobby Henderson said. "I encourage anyone who lives in the valley and works in the Charlottesville area to give the Afton Express a try."
Afton Express staff are celebrating this milestone but are not slowing down.
"We're already looking to the future of the service," Melester said of plans for a schedule expansion that will go into effect in February 2023.
Expansion plans include a fifth trip in the evening to provide later service, the addition of a new stop in Charlottesville, and the bus will now service the Staunton Mall stop on all trips. A proposed schedule was released on December 27, 2022 for a 21-day public comment period. CSPDC and BRITE Bus/Afton Express staff will make final adjustments based on public feedback before the new schedule is implemented in February.
"Riding the Afton Express allows me to save money on gas, prevents wear and tear on my vehicle, and makes my commute more enjoyable," Kayla Payne, a regular Afton Express passenger, said. "I can read a book, zone out or even get ahead of my work day by connecting to WiFi. I hope to continue riding the bus for years to come."
The Afton Express is a public commuter bus system that connects the Shenandoah Valley to the Charlottesville area with daily transit service provided Monday through Friday.